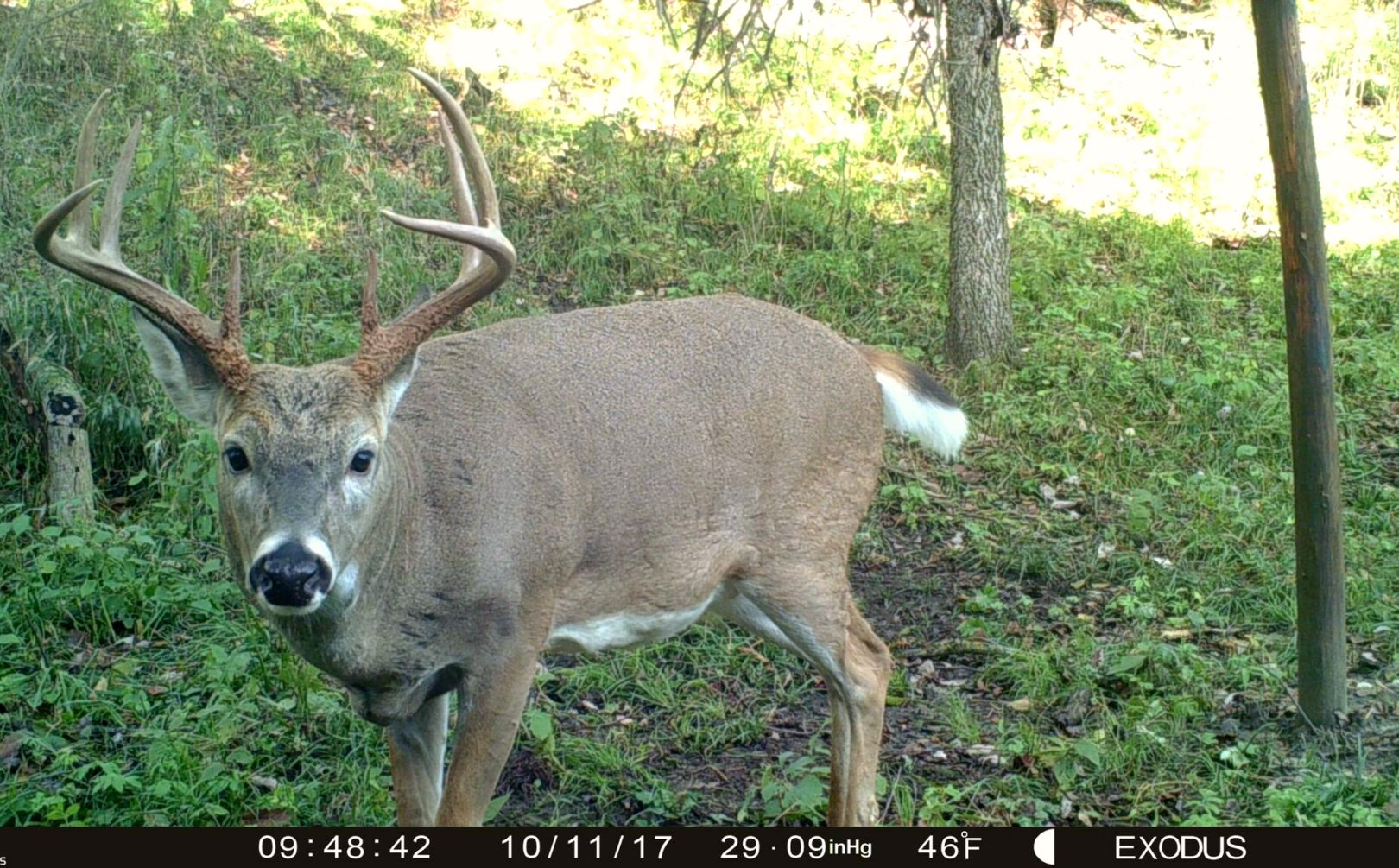 Next week will go down as one of the best Pre Rut weeks in a very long time! The whitetail forecast in most areas, shows nearly a 30 degree drop in temperatures in a 5 to 6 day period and those days of the Pre Rut just can't be missed!
Last weekend's Whitetail Weather Forecast, yielded a massive collection of giant, mature bucks that fell across the country. You don't need to look any further than scouring the pages of Facebook to check out the bucks that Don Higgins, Lee Lakosky and Ben Rising shot! All cold front bucks, and the weather forecast didn't lie. With similar weather factors cropping up smack dab in the middle of the Pre Rut, this forecast is not only important, but jumps into the CRITICAL status!
*Make sure that you don't miss out on the formula that will guide you to success for not only the rut, but for the entire season. You can calculate your own success by checking out my 2017 Whitetail Rut Article and Video.
Pre Rut Whitetail Wheather Forecast Details To Look For
There are several weather factors that create changing whitetail movement patterns in the whitetail woods. While each carry their own varying level of impact when it comes to kicking mature bucks into daylight cruisers, they can all to combine to create one massive continuous push when the timing is right. Folks, the week of October 23rd features the right timing for Pre Rut activities, as well as the perfect storm of combining weather factors!
1. Rain and Wind
When temps are dropping nearly 30 degrees over a 5-6 day period, you can count on two things this time of year: Wind and rain! If it is just a little colder in some of the Nothern areas, you may even notice the rain turn to snow. Regardless though rain and wind brings opportunity. Just prior to heavy wind and rain is always a decent time, but after the rains and winds break, make sure to be on stand! It doesn't matter if the wind drops from 45mph to 30mph or 30mph to 15mph, a 15mph wind drop is huge in the whitetails woods. When you combine dropping winds and a stop to the rain - watch out! You have got to climb into a treestand. However, when you see drops in wind, rain and add major temp drops - that's when the whitetail weather forecast turns critical, because you simply can't afford to miss these opportunities.
2. Temperature
The #1 factor for your 2017 Pre Rut weather forecast is temperature drop. Regardless of rain or wind, when the temperature significantly drops, in my experience mature bucks will be on their feet!
3. Moon
Whether or not a buck is shot during the Pre Rut, will have very little to do with the moon, unless that day happens to be a good weather day. Moon predictions work exceptionaly well when they are aligned with a great weather day, and not so well when they are aligned with a poor weather day. The best advice I can give you for the entire rut as well as the rest of the season, is to just focus on the weather and enjoy your success!
2017 Pre Rut Weather Forecast For Waterloo Iowa
Sunday's big temp drop and major pressure climb create an exceptional day to hit the woods. However, during the Pre Rut, every day that passes moves you closer to the most most intense portions of the Pre Rut period. Wednesday morning on the back side of high winds, major temp drops and a rise in pressure signal that heading to a Pre Rut morning hotspot is not only appropriate, but highly encouraged! But What could be better for you in the Waterloo region? ANOTHER great day to hunt on Friday. Folks, if you can manage just a 3-4 hours to sit during each of those 3 days, those sits could be worth more than than the entire 10/20 weekend and week that follows, combined. Consistently shooting mature bucks isn't about quantity but quality, when it comes to your overall sit management strategy. How can you shoot more deer from the couch? By following the forecast and saving your hard-earned vacation days for when they matter most.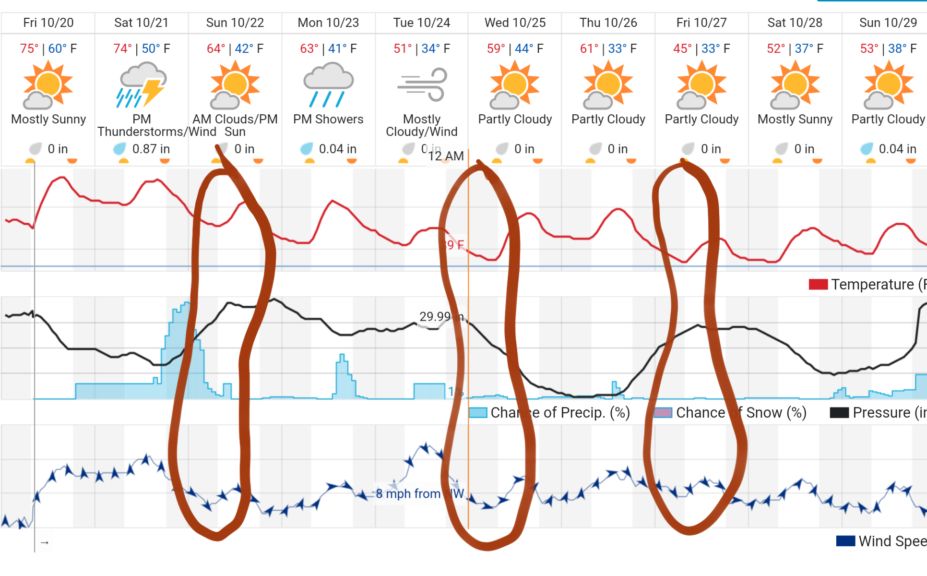 2017 Pre Rut Weather Forecast For Lansing MI
When the temps are dropping, rain and wind is in the forecast and it's October 24th in MI, you can't miss the opportunity! If you are hunting great habitat and have a Core Buck to hunt, then this is the perfect time to pull your bow back during an exceptional Pre Rut weather opportunity. Make sure not to wait until early November, because someone following these weather forecasts may have already wrapped his tag on him!
Thursday morning also looks outstanding and when you combine cool temps and a rising barometric pressure on a Saturday morning when just about everyone will be in the woods, a lot of great bucks won't see the Peak Rut.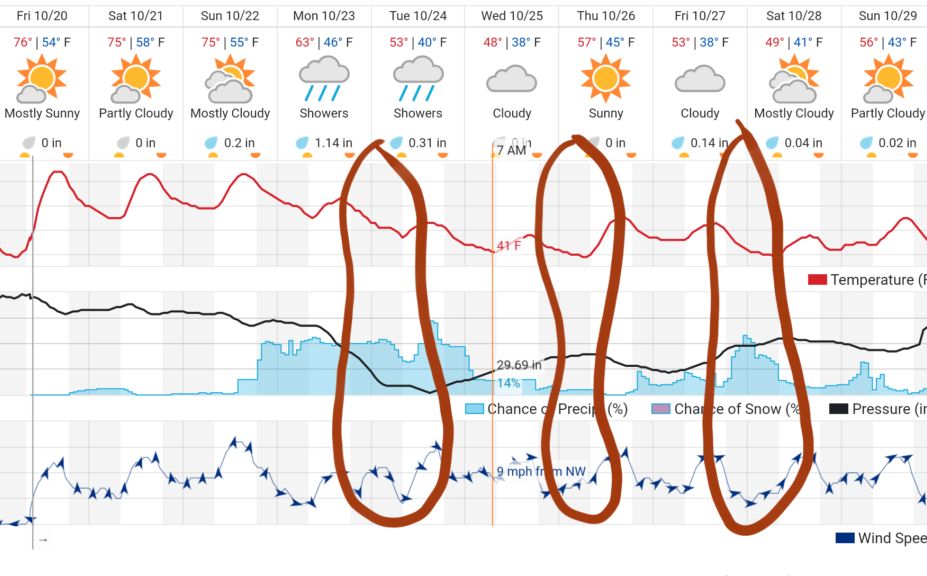 2017 Pre Rut Weather Forecast For Altoona PA
As the Weather travels from East to West across the United States, the perfect opportunities will be reflected later and later in the week. In Altoona, PA, there are actually two days I would focus on, during the middle of the week. Do you feel a cough coming on? Then some fresh air on Wednesday and Thursday could be just what you need, because the forecasted highs will be 20 degrees cooler, than just 2 days before. Tuesday's rain forecast is calling for an inch of rain, so you can expect the pounding stress of the rain and wind to really set the table for a great increase in whitetail weather activity on Wednesday and Thursday.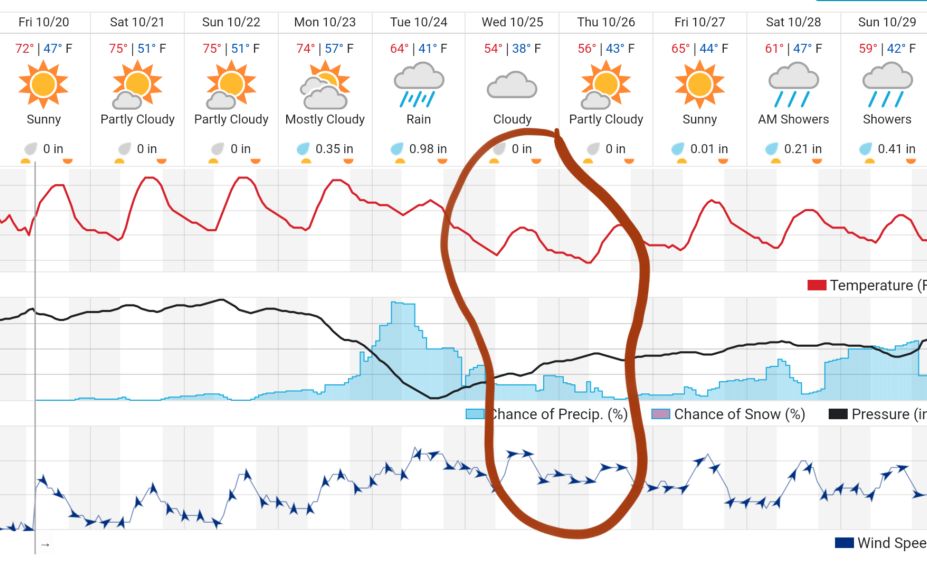 What About YOUR Pre Rut Weather Forecast?
Obviously, not everyone who whitetail hunts, hunts around Waterloo, Lansing or Altoona. However, if you learn the tools of whitetail weather forecasting on this site, you can easily create your own forecast by switching your devices to desktop mode, and then clicking on the 10 day forecast tab in the city nearest you, in Weather Underground. Keep in mind that 7-10 days out, the forecast for major changes will be accurate to within a day or two, but the entensity of that change can very greatly. Make sure to narrow your focus right now, and to consistently pay attention to the factors discussed in this article as the days become closer.
No Bucks No Pre Rut
While this seems like a completely obvious statement, I have experienced that this is one of the most confusing and misunderstood concepts in relation to the beginning of the rut each season. Why do rut reports and observations to some degree, not matter? Because from one neighbor to the next, the start of the rut can be a week to 10 days apart. The older a buck becomes, the more rutting activity he displays. If you have a mature buck in your neck of the woods, he will be show himself on your trail cams often, he will leave a lot of sign and you will be one of the lucky ones that gets to experience the Pre Rut.
Conclusion: This Whitetail Weather Stuff Really Works!
I urge you to check out the success stories on Social media for last Sat/Sun/Monday's major front that passed by. Many of my fans on Facebook shared their success stories, and there were countless major mature bucks harvested across the country. I have been delivering these forecasts for years, and have been creating my weather formula based on decades of success. It really does work, and this 2017 Pre Rut weather forecast is no exception.
Don't miss out! The 2017 Pre Rut is quickly approaching, and will pass by rapidly. The majority of my personal mature buck harvest opportunities have taken place during the last 10 days of October, purely because I focus on core, mature target bucks that are amped up due to the beginning phases of the rut. When you combine next week's perfect storm of merging weather factors and the timing of the Pre Rut, you just can't afford to burn a 3 day week this weekend, at the expense of 1 perfect day's hunt next week.