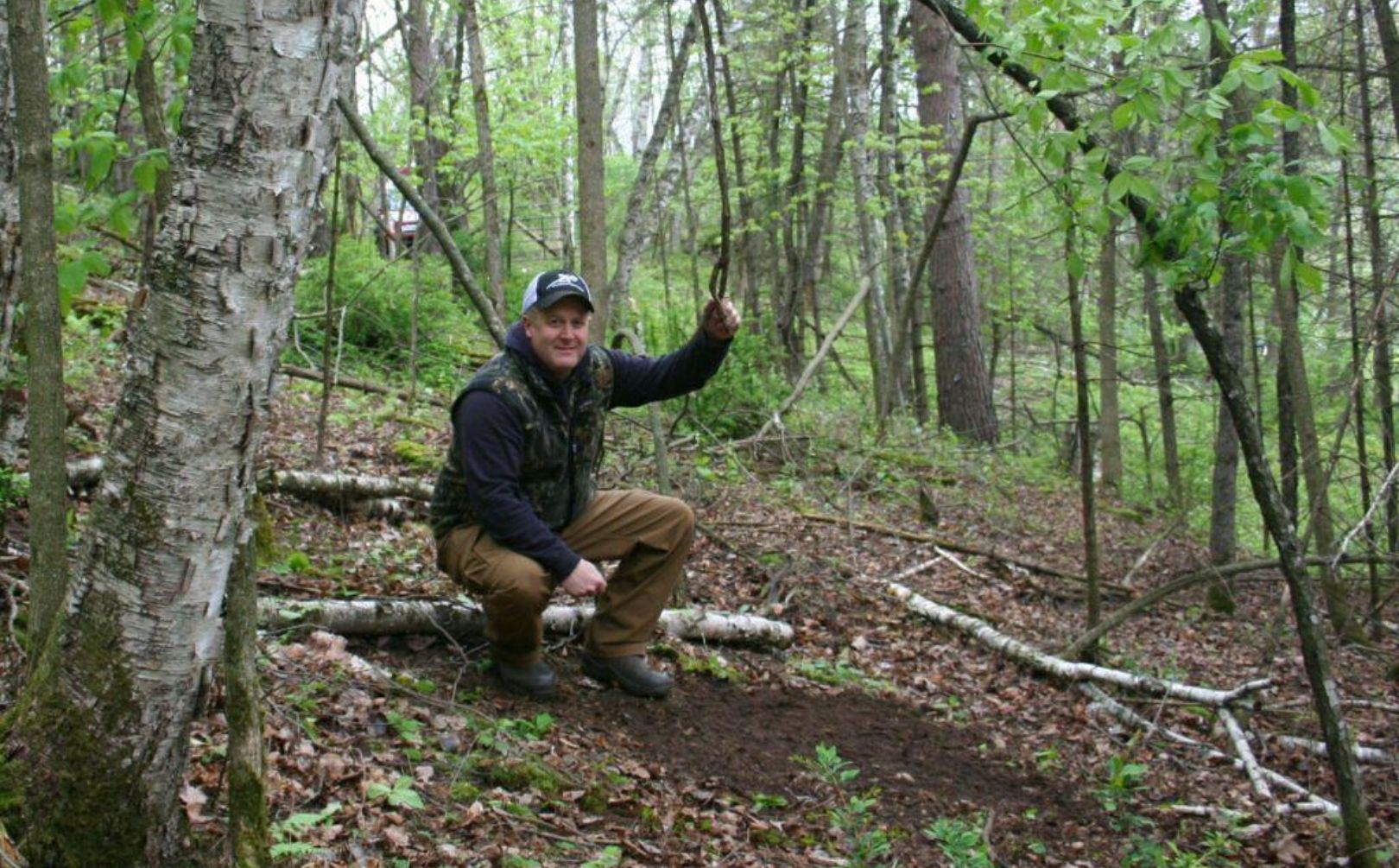 *Make sure to check out my whitetail book series including, "Whitetail Success By Design" and "Food Plot Success By Design", to help you find mature bucks this hunting season!
The coolest part about making a mock scrape is the anticipation of the quick reward when you create the habitat improvement, and then find that a buck has used it; often fairly quickly! How do you make a mock scrape? Over 10 years ago I began making mock scrapes in the UP of MI to take a census of the local buck herd during the late Summer. The process that I used is covered in the article titled, "To Pee or Not To Pee", but the bottom line is that the process worked, it added value to my deer management and hunting efforts, and at the same time it was just the beginning of great things to come in the world of mock scrapes!
For a complete guide that answers the questions of why and where to make a mock scrape, check out "Mock Scrape Strategies: Creating Buck Movement". However once your strategy has been created first, then it is time to make a mock scrape!
General Tips For Making a Mock Scrape
Natural, Natural, Natural;
Need I say more? While touring 19 states during the past 11 years, I believe that I may have "seen it all" when it comes to the huge variety of ways to make a mock scrape. From cables fastened between trees with rope hanging below, to cedar "T" posts and vines and a huge variety in-between; some obviously worked, and some obviously didn't.
What has worked the most consistently?
-When all-natural materials have been used.
Below are some of my favorite mock scrape creations. Some may offer the perfect fit for your personal habitat conditions and some may not, but most can be created with nearly all natural materials. Regardless of if you are using these strategies or your own, when you make create a mock scrape using all that Mother Nature has to offer, you can hardly go wrong. Here are some of my all time favorites:
1. Hoop Mock Scrape
Making a mock hoop scrape starts by choosing a hard, level soil surface to pull two young sapplings over. I like to use sapplings that are 2-4" in diameter, and are stiff enough that I need to use a "Habitat Hook" to create enough leverage to pull the trees over. By using a 3-4' cut vine that is 3/4" to 1 1/4" in diameter, you can provide the perfect licking branch. I like to tie the trees to form a hoop, roughly 7' above the scrape, while tying the end of the vine at the same point in the hoop. Parachute cord is a great type of rope for most habitat tying activities, and when you make a mock scrape parachute cord works great too! I like to create a small cut around the top of the vine to tie into and hold the vine, while at the same time placing the end of the vine between the two trees where they are tied together, so that I can create a loop on the vine above and below where the two trees meet.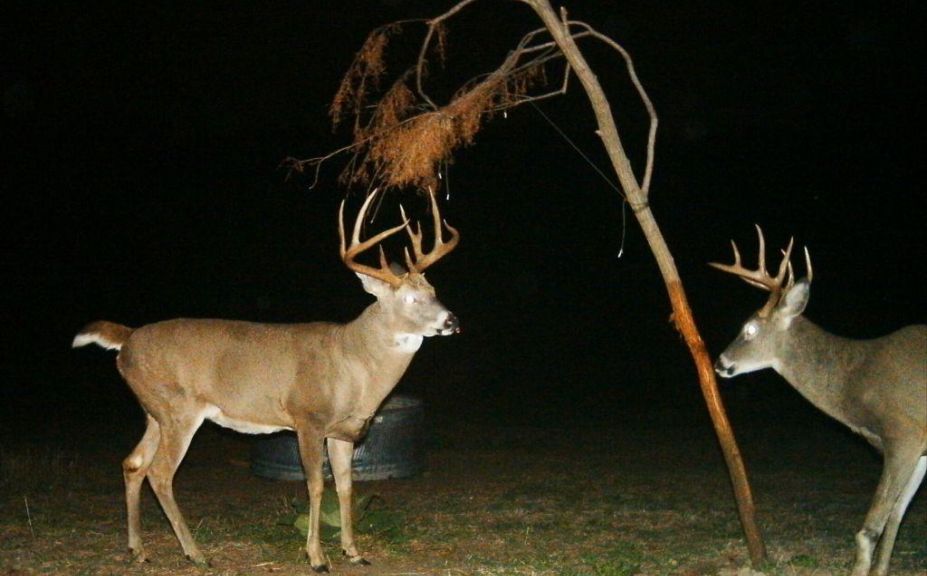 2. Transplanted Mock Scrape Tree
The conifer pictured above created the perfect tree for creating not only a mock scrape, but a rubbing tree as well! A post hole digger and a sturdy conifer can go along ways towards pinpointing the perfect spot for mature buck attraction. My favorite conifer varities to make a transplanted mock scrape with are Jack Pines and Red Cedars.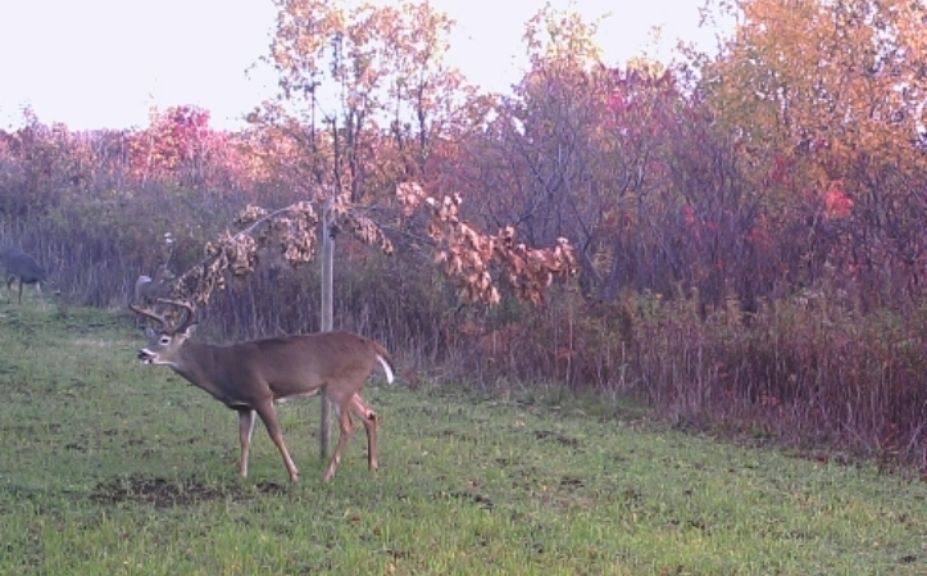 3. Mock Scrape Tree Post, Mock Branches
An untreated cedar post can be installed with a post-hole digger, and then fresh-cut oak branches can be slid into pre-drilled holes at the right height to offer "mock branches" for a rub post and scrape combo.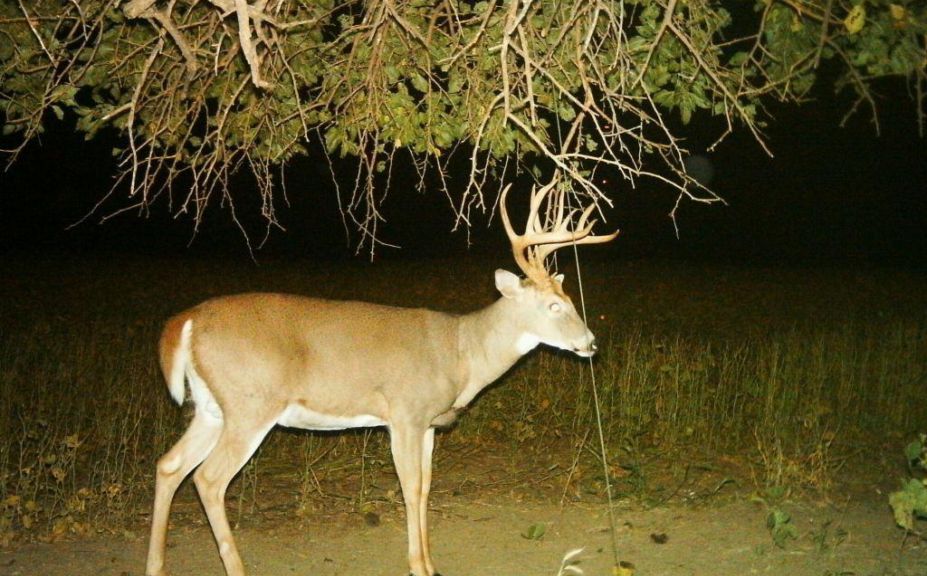 4. Trapper's Anchor Mock Scrape
Do you have a great mock scrape location with branches that are too high off the ground? Buy using parachute cord and a trapping anchor you can pull the branches down to the desired height, clear out a "scrape" with a garden rake and offer a very natural habitat creation. A trapper's anchor can also be used to pull a young sappling into a an opening to be tied off to make a mock scrape.
Want to check our what a trapper's anchor looks like or even order a few? Take a look at "Coon Creek Trapping Anchors".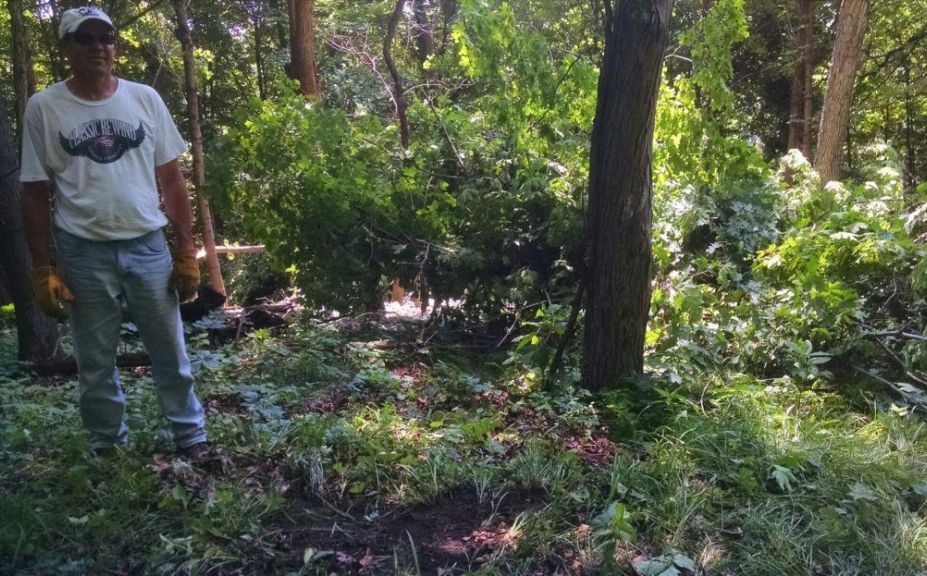 5. Vine Mock Scrape
Some of my favorite scrapes over the past decade have come from taking a naturally growing vine in the right location, and cutting it at a height of waist to chest high. This was my primary reason for coming up with the hoop scrape; it's hard to beat a scrape using a vine!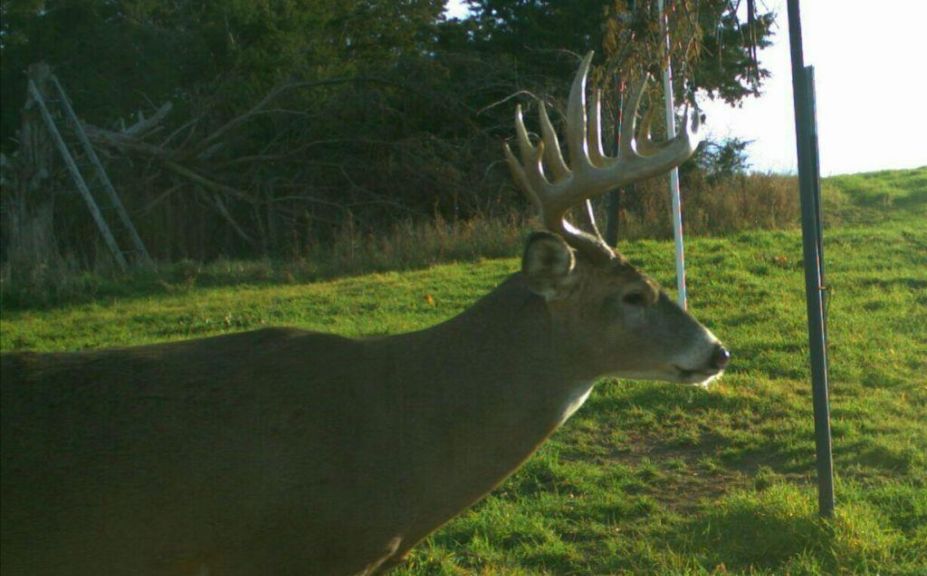 6. Mock Scrape Line
A previous client and now friend of mine, Cory, came up with a great way to make an entire mock scrape line! By positioning two lines of barbwire parallel to each other and about a foot apart, stretched between two trees and supported by cedar posts if needed, he offered the perfect scenerio for hanging vines and branches from to make a mock scrape line of 10-50' long. By fastening the vine or branch to the upper and lower barbwire, they are kept from being able to worked off the line too easily, and the barbs from the wire keep them from sliding back and forth too far.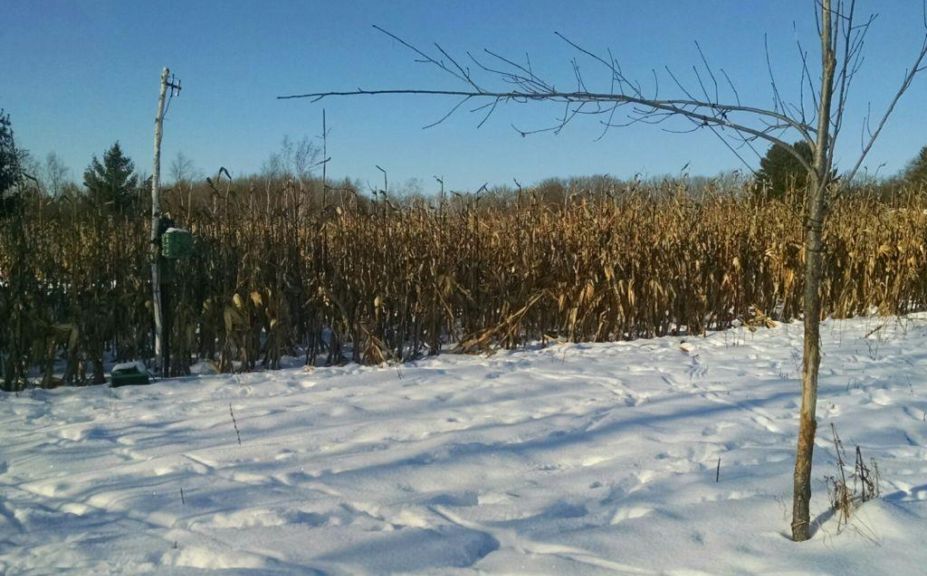 7. Planting a Mock Scrape
John Walton from Big Rock Trees has some outstanding Hybrid Poplar trees that can be used for a quick growing, planted mock scrape and rubbing tree! For ordering information, check out "Big Rock Trees' 6' Hybrid Poplar".
Mock Scrape Essentials
Here is the easy part! While I have experienced that although the strategy for using a mock scrape is often confusing and misunderstood, and that some materials for creating a scrape may or may not work, the essentials of an effective scrape are fairly easy to understand and implement. Here are the basics that you need, in order to make a mock scrape as effective as it can be:
1. Locate your potential scrape on dry, solid and mostly level ground. If the scrape is on uneven ground, make sure that the ground is at least rising above the deer trail so that a buck is working into the angle of the ground instead of the drop off of the terrain
2. A sturdy licking branch positioned at a height between your waist, and head high is great. I have personally found that a vine (vertical) is often most effective when positioned around waist to chest high, where a traditional licking branch (horizontal) works very well at a height around the level of your chest.
3. Position mock scrapes to compliment the existing flow of mature buck travel. Create mock scrapes 30-50 yards from a stand location, on either side of the stand location to enhance deer travel past the stand location, and not too the stand location.
4. Keep in mind the more scrapes that you create on the land, the lower the absolute value of each scrape on your land. While mock scrapes will not typically attract more bucks to your land, they will most definitely help to defined mature buck travel. Try to employ a strategy that uses mock scrapes purely to set up potential stand locations as well as your intended line of buck movement. Excess mock scrape creations can reduce the value of each scrape due to the over-saturation of the improvement, which in turn reduces the effectiveness of the deer movement and hunting opportunities that you are attempting to enhance.
5. Placing a camera on a remote, interior scrape can provide you with a wealth of valuable insight for mature buck movements, however be very careful to use black-out cameras only, and access the camera infrequently throughout the season or not at all. Wireless gamecameras can be an outstanding option for remote mock scrape scouting activities!
6. My favorite time to make a mock scrape is from May to early September. The vegetation that you clear will usually stay cleared as long as deer begin to use it, and by creating a scrape earlier in the year you have plenty of time to hit it with a dose of herbacide to make sure that it stays clean and free of vegetation.
7. Do you need to apply urine? I believe that if you are establishing a scrape late in the year the use of natural deer urines can work well, but at the same time doen't hesitate to use your own in a pinch. The hoop scrape that I created above was used within 10 days of creating, and no urine of any kind was used.
Conclusion
If you make a mock scrape within an intended line of mature buck movement on a dry, level surface near a bowstand, you will most likely satisfy your anticipation right away. I created the hoop scrape pictured above within those exact conditions on May 12th, and when I re-checked it on May 26th it was already being used. The line of intended mature buck travel in that particular location went like this:
1. Morning stand location for NW/W/SW winds above a mature buck bedding area, and at the end of the "bedding to food" daily deer movement pattern with mock scrapes nearby.
2. Mature buck bedding in remote, wooded hollow on upper benches
3. Doe family group bedding closer to the front and bottom of the hollow
4. Bench travel out of the hollow and towards food
5. Mock scrape 40 yards prior to stand location
6. Waterhole with stand location for S/SW/W winds
7. Mock scrape 40 yards past stand location
8. Stand location for E/NE/N winds
9. 1/2 Acre food plot
10. Large, 1.5 Acre evening destination plot.
The entire line of this personal set up of mine stretches for nearly 600 yards from the mature buck bedding stand locations to the edge of the evening destination food plot, and only contains 3 mock scrape areas, or clusters. The hoop scrape is my most favorite variety of natural mock scrape creations and I expect each of them within this line to attract a very high level of attention! The 3 stand locations within this line can be used with completely different access times, morning, evening and represent each wind direction.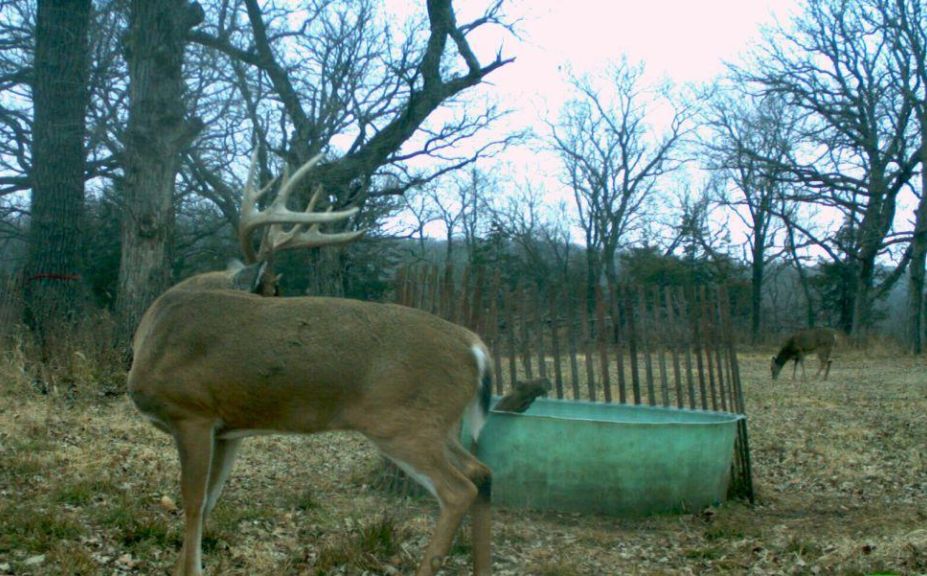 Last year was the first year of this line of deer movement creation, and it accounted for 3 buck harvests for my son and I. Make sure to read,"Creating Daytime Buck Travel On Your Land"to check out the strategies that contributed to our success.
How do you make your mock scrapes? There are many options for creating your next great buck attraction and I look forward to hearing about the success of all of your mock scrape efforts!