Are you a whitetail hunting and habitat nut? Then this is a can't miss opportunity for you to experience first-hand, advanced whitetail strategies that have been 3 decades in the making. Most importantly, you will learn how to apply those proven strategies specifically to your own habitat and hunt, no matter where you live.
Discover 3 Proven Whitetail Categories That You Can Improve on this Season!
The field portion of the event will be held on one of the lands that I personally hunt and manage. Located in the scenic bluff country within 12 miles of the Mississippi River, the region is not only known for producing incredible deer herds, but is one of the most beautiful areas I have ever experienced. The land can actually be seen from the Village Hall where the seminar portion of the strategy event will take place, and I am looking forward to sharing my home town whitetail success concepts, with you.
1. Build Highly Efficient Habitat
Food Plots • Bedding Areas • Travel Corridors • Waterholes • Mock Scrapes
Should you even create any of these habitat improvements on your land? We will discuss why and how each habitat improvement should be made, as well as when and where those improvements should be applied. Habitat improvements should be carefully considered and employed strategically to create a cohesive system. Not every acre on your land should be improved, and you will learn how to create improvements that are both efficient and appropriate for your land.
In the field, you will be able to check out the work of Ross Fernandez. Ross is our WHS Turnkey Habitat Improvement Expert, who performs site specific cutting practices and field work for our WHS clients. We will explore in-depth the cutting techniques that are appropriate for your land, and why those same exact techniques may or may not be what your friends or neighbors should be performing on their lands. Ross is in high demand for a reason, and you will get to check out some if his work and how the deer are using those improvements, first-hand.
2. Scout Target Bucks
Summertime • In Season • Post Season • Trail Cameras • Field Observations
Learn how to forecast when specific bucks will be on your land at certain times of the year and why. These detailed scouting techniques will greatly increase your odds of both predicting and creating mature buck encounters. Since the early 90s these scouting strategies have created an annual target buck harvest rate of over 80%. Learn how to take the luck out of your hunt, with techniques that you can take back with you to your own herd.
3. Hunt With Precision
Hunting the Hills • Predatory Access • Real World Scent Control • High Level Target Buck Hunting • Creating a Quality Deer Herd
Once you have built a quality habitat and scouted your herd, learn the techniques that will allow you to become a highly efficient predator for target bucks and even antlerless herd control, when needed. Mature bucks and a QDM herd go hand in hand, and how you ultimately hunt your land will determine your level of potential success in all whitetail categories. You will learn how to apply mature buck hunting techniques to your whitetail habitat improvements, which takes your whitetail management potential to the highest possible level. I am excited to show you first hand how you can truly create and hunt a quality whitetail herd!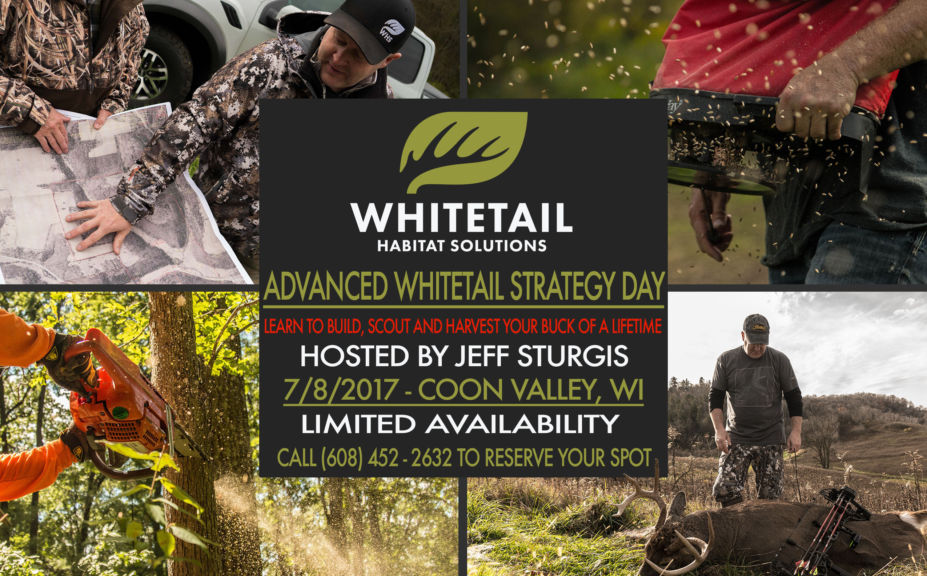 Advanced Whitetail Strategy Event Details
When: Saturday, July 8th from 8am to 6pm
Where: Coon Valley, WI
Cost: $500.00 Per Individual (ask about group discounts) and FREE for your children aged 15 and under.
Contact to Reserve Your Spot: 608-452-2632 or email info@whitetailhabitatsolutions.com
Space is limited so make sure to reserve your spot with a $100 deposit soon! Lunch and a workbook will be provided during the seminar portion of the day, and be prepared to hike in the hills a bit, to explore proven whitetail herd, hunting and habitat strategies.
32 years of whitetail lessons learned and the knowledge gained from scouting and designing over 600 client parcels in 22 states, has created the level of experience needed to form highly refined tactics and strategies, that can be applied to improve your habitat, herd and hunting success, anywhere a whitetail roams.