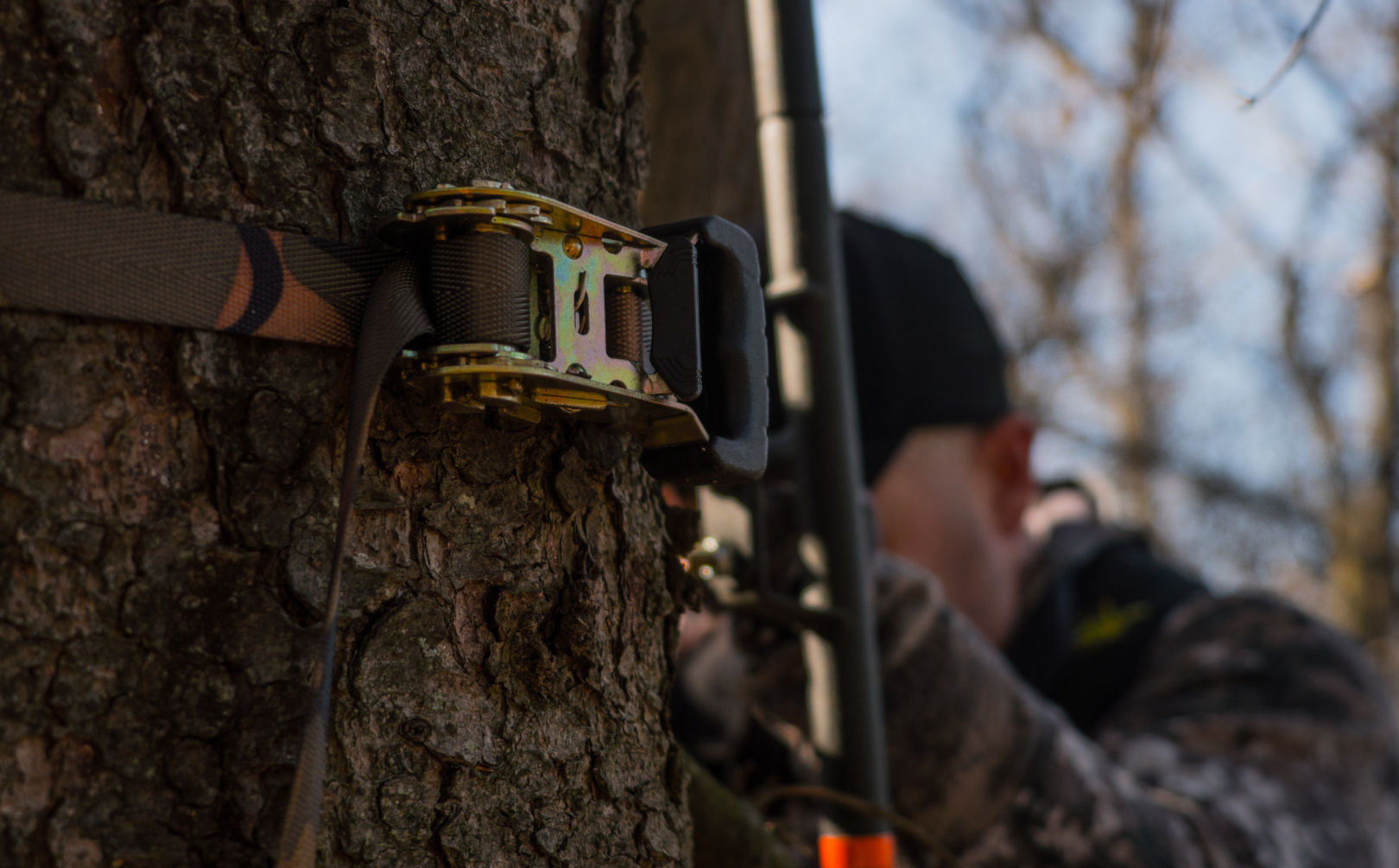 The #1 hunting access strategy for whitetails hinges on your ability to reach a stand locations that represents the closest point of contact to daily deer movement. I first began discussing what I named Perpendicular Access in the mid 2000s, and mastering this concept allows you to consistently hunt unsuspecting whitetails.
By developing or recognizing strong lines of deer movement that represent buck cruising lines during the rut or daily bedding to feeding movements, you can then choose a path to access your stand location in the least invasive manner possible, with an extremely low level of deer/human encounters. The more defined the line of potential deer movement the greater that your ability is to enter and exit ambush locations without spooking deer. And the best part of all? When deer and human encounters are kept to minimum levels, then hunting the same high quality stand locations can take place over and over again.
*When you finally get to your treestand without spooking deer, make sure that you keep from spooking deer by hunting out of ultra Quiet Treestands.

Maintaining Perpendicular Deer Hunting Access
While the concept is simple, the execution during the entire season is often where the concept begins to unravel. Food plot failures, spooked-out bedding areas and invasive hunting practices can easily destroy a well-planned whitetail line of movement - and it doesn't take long! Once a portion of the line of movement is over pressured, then the entire line of movement can be eliminated in a weekend. Then perpendicular access or not, any following hunts can be over before they begin. Diverse food sources that can provide for the entire season are often the hardest portion of the puzzle of deer movement.
Often on public land deer move throughout portions of the habitat for just a few weeks at a time, as random native forage opportunities are constantly increasing, peaking and declining during different months of the hunting season. When hunting pressure is added to public land lines of deer movement, your hunting access can take a back seat to other, more significant hunting priorities. Private land food sources and bedding areas can be improved, maintained and hunting pressure can be strictly controlled. A large portion of the strategy for maintaining hunting pressure levels boils down to how well you continually access your stand locations. If you maintain the integrity of the entire line of deer movement within a highly strategic whitetail design, including the length of food attractiveness and security of the bedding areas, then a perpendicular access strategy can be the practice that consistently tips the scales in your favor.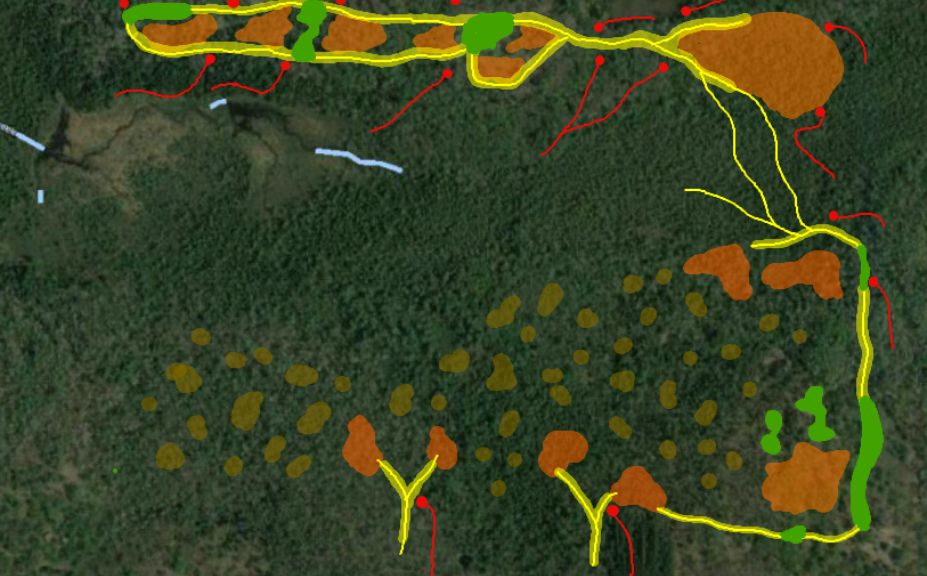 *A large portion of the strategy for maintaining hunting pressure levels boils down to how well you continually access your stand locations.By accessing stand locations (red trails and dots) from the outside of core deer areas and into the edge of daily lines of deer movement, you can begin to establish highly successful huntingpractices that will keep you hunting effectively throughout the entire hunting season.
Conclusion
By keeping the closest point of deer contact to daily lines of deer movement at your stand locations and in front of you - not behind your stand locations or on the way to your stand locations, you can keep your deer human encounters to an absolute minimum. It doesn't matter if you are hunting private land or public, when you keep from consistently spooking deer when you access your hunting lands, you will find a high level of consistent whitetail success. Access your stand locations perpendicular to the line of defined lines of movement, just might be the #1 way to not only target the most mature bucks in the area each season, but to keep the quality of your hunt intact for the entire hunting season.