Using a vine for a mock scrape, may be the best licking branch that you can find! Why? Because while scouting deer parcels in 22 states for my full time career, two things have become incredibly obvious: Vines are the #1 licking branch and in nature, natural is always best.
As you can imagine while touring the North 1/2 of the Country on 100s of client parcels, as well as for my own pursuits, I am pretty sure that I have seen just about every possible form of a mock scrape, that can be created. From nylon rope, barbwire, cable, branches, treated or untreated lumber, and transplanted trees, to scrape hanging poles, rows of branches or vines, drilled-in oak branches and even enough hemp rope to suspend an ATV, the options are endless. However, not all mock scrapes options work the same! So to save you some time and speed ahead several years of trial and error, I suggest that you strongly consider the wonderfuly natural attraction of using a vine for mock scrapes.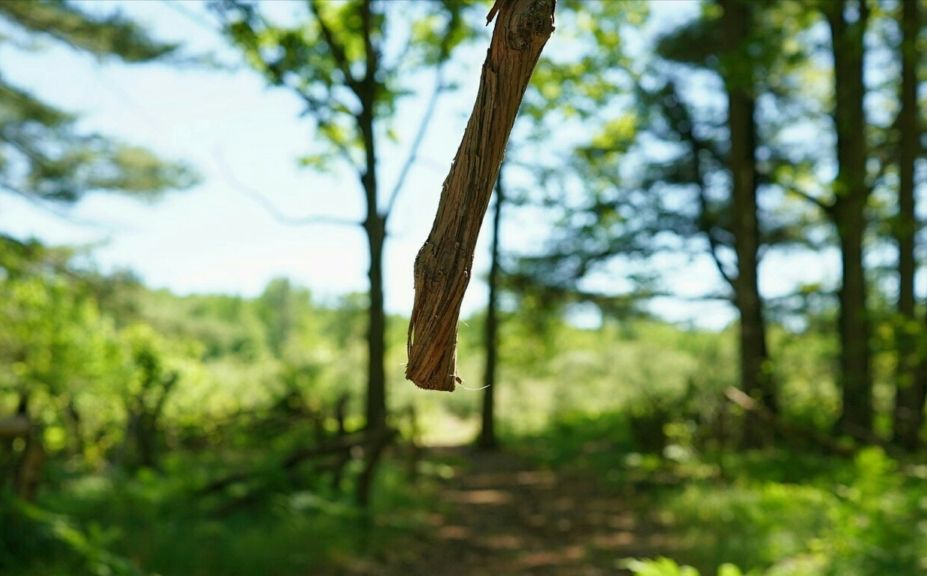 *If you look closely on my MI client's vine licking branch, you can even see some deer hair attached to the end! When should your mock scrapes have been started? Already!
Grape Vine Mock Scrape Qualities
Vines come in many diameters and feature a variety of twists and turns that deer seem to not be able to resist! Here are a few reasons to use a vine for a mock scrape:
1. They last!
Natural vine scrapes that I have experienced personally, have lasted for 1 years or more! A particular vine that I used for a trail camera location in 2003, was the same destination within a buck bedding staging area, that my 2013 droptine buck was headed to. The exact same cluster of vines! Some of my personal vine licking branches for mock scrapes have lasted 4 years and still counting.
2. Consistent Attraction
When a licking branch lasts with a low probability of breaking or becoming to weak for bucks to use, the specific archery-shot movement you are counting on, can completely change. By using a 3/4" to 1" diameter vine, you can assure that your creation will last for several years or more.
3. Natural is always best...
Out of place box blinds, waterhole tubs, trail cameras and ladder stands can all negatively divert mature buck movement. A grape vine is the all-natural, consistent licking branch option. Rope licking branches and lumber sometimes work a portion of the % of time that something natural does, but that amount of use can range from zero to average at best; so why bother?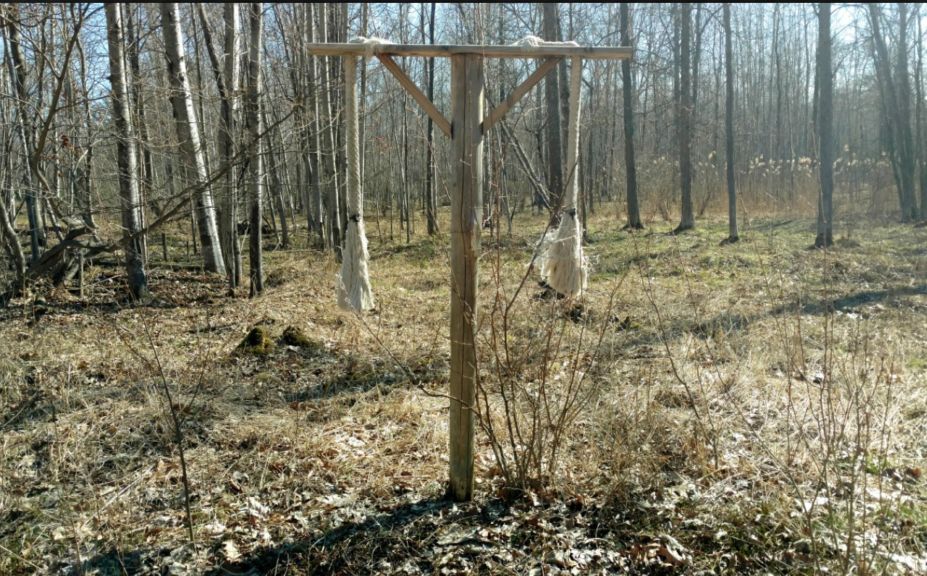 *While a pretty good fad between 4-8 years ago, the number of T-post mock scrape and rope combos have deminished rapidly. This one from April of this year, is still collecting dust and growing briars underneath. On 1 Northern WI parcel alone in 2010, I observed 500 T-post and rope scrapes, completely unused. Do they work at times? Sure. However, are they worth the effort? In my experience the quick answer is a hearty, "No".
Great Vine Licking Branch Alternatives
To say that a vine is the only mock scrape licking branch that you should be using, would certainly be false. In fact, there are many locations where vines -although they still should work- are not native. A couple of my personal favorites are oak and jack pine branches. Both are tough, both can be drilled into a natural red cedar or other natural posts, and both can last multiple years. Clients who have positioned either to hang as a vertical licking branch, have also found a great deal of success. Even cutting and "transplanting" jack pines and small oaks for a single season, isn't a bad idea.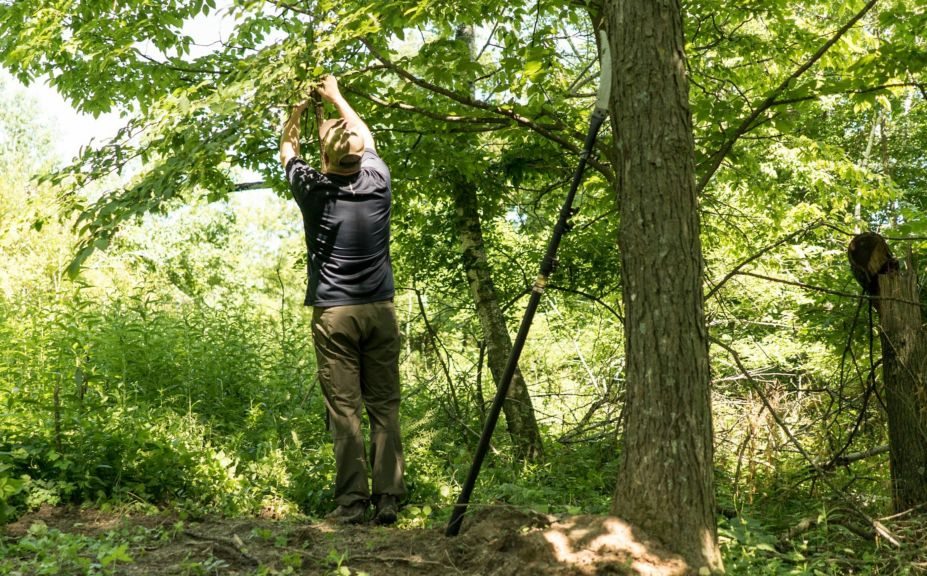 Installing A Vine Licking Branch
Using rope I like to hang about a 5-6' piece of vine so that the bottom of the vine is about waist high. The size allows the vine to have enough weight to keep from blowing in the wind too much, while the position offers the opportunity for a buck to work the vine at head level, even when he twists his head to the side. If a branch is not handy, pulling and tying two sapplings together to form an arch to hang the vine from works great, and don't be afraid to use a rope tied between two trees, to hang your vine from. By leaving the rope out of the licking branch equation and just merely using to hang the vine, I haven't experience any negative effects.