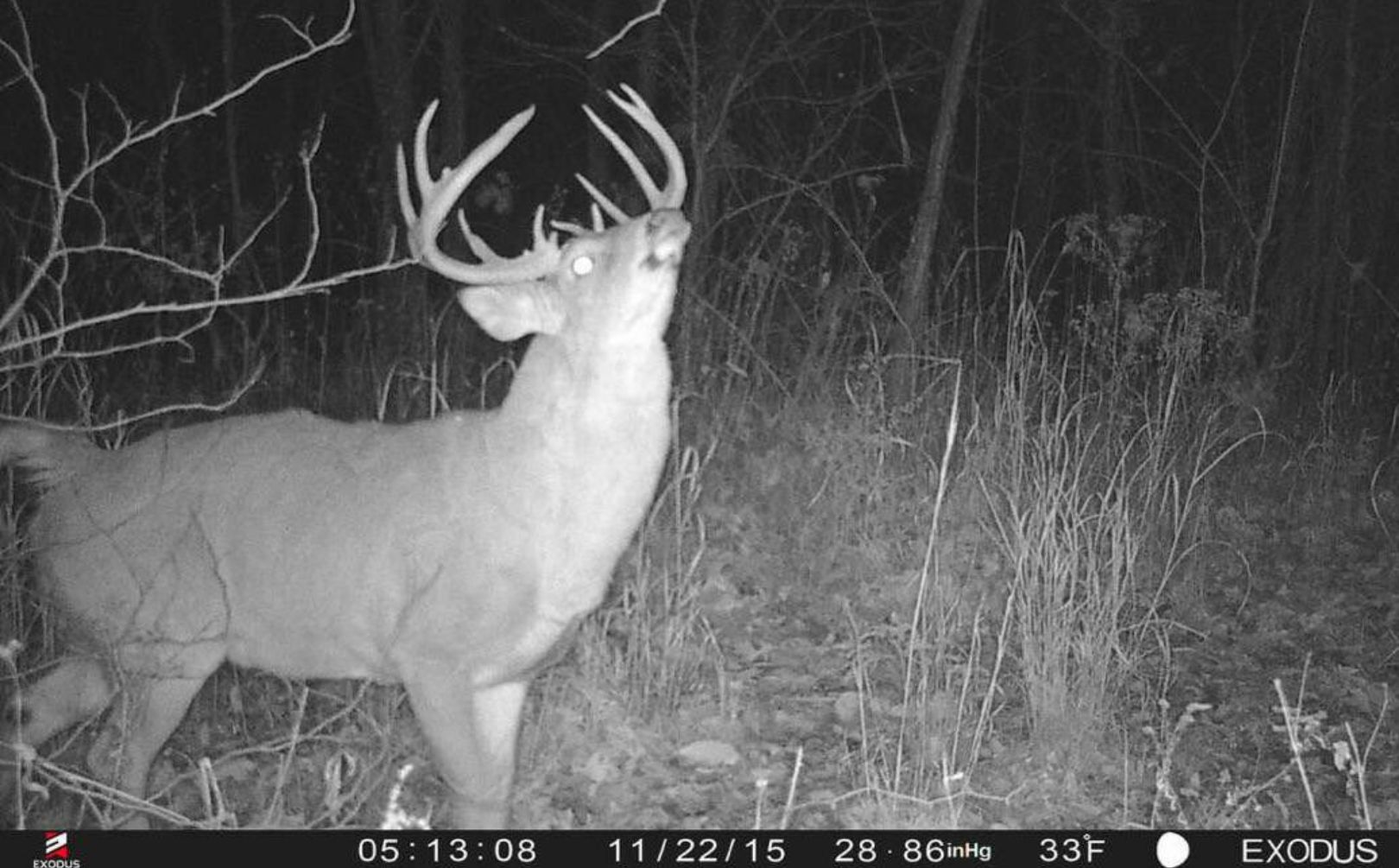 *Would you like to make sure you can attract, hold and hunt a mature buck for the entire hunting season? Then make sure to check out my best food plot mix for 2016.
Would you like to exactly which days will be the hottest, can't miss days to climb into your favorite treestand during the 2016 whitetail rut? Then here is your 2016 hunting season guide for creating your own precision mature buck sit forecast, for the entire rut and beyond.
Most hunters know that not all ruts are created equal. As much as your head spins with the mental images of scrapes, full moons, rubs, monster bucks, and the magic of a major rut-crazed chase scene, the best day to be in the rut-crazed woods will rarely be a set date on a calendar that you can predict months in advance. However, I have three critical rut-influencing elements that can, in fact, help you create your own formula for not only taming the annual madness, but for predicting high-value hunting days with great precision. For exactly When to hunt in your area during the 2016 Whitetail Rut and exactly How you should plan to hunt each phase of the rut, make sure to read the entire article!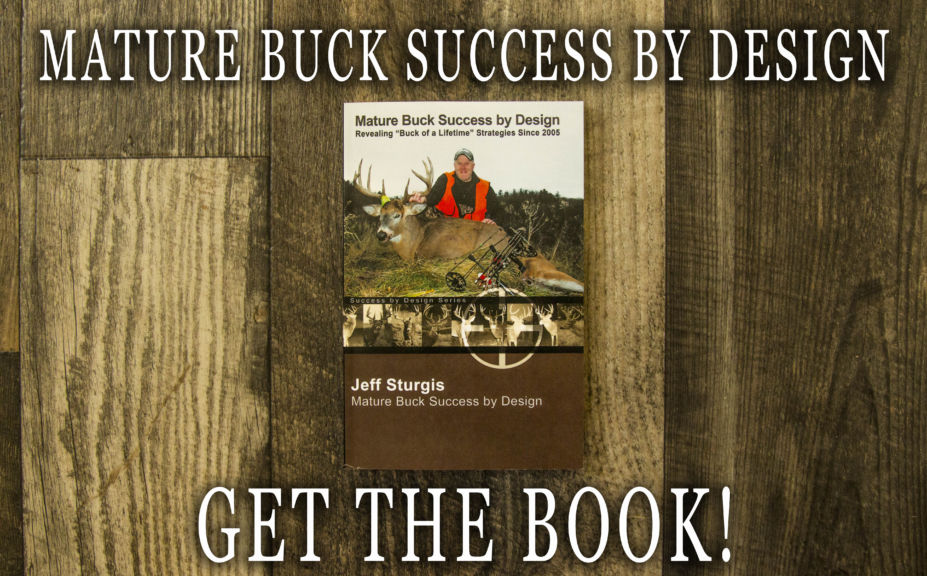 *This 2016 Whitetail Rut Forecast as well as many other advanced mature buck hunting strategies, are covered in my 3rd Whitetail Success By Design book series,"Mature Buck Success by Design", which details how to scout, prepare, forecast for and consistently kill mature bucks.
Do you like research? To some research is king and to others it is extremely boring. Heck, let's face it; to most research is boring! However, there are two important articles from the Quality Deer Management Association, that you can read to help you wade through the clutter of 2016 whitetail rut, predictions and forecasts:
-The rut will begin in your area at the same time, every single year.
-Moon charts, predictions and forecasts will lead you astray in 2016. Sure, moon phase predictions get lucky at times and even can predict minor changes in feeding patterns, but only if they fall during the typical period of the rut for your area, and only if you match your sits to the optimum weather conditions to be in the woods. What is the best advice you can live by when it comes to "moonisms"?
"Poor weather during a great moon phase will still equal a poor day to hunt, but great weather during a poor moon phase will still be a great day to hunt!"
-The moon has very little influence if any, over the timing of the rut, let alone activity levels during the rut. That was the same 100 years ago, 50 years ago, 20 years ago and the moon will still have very little influence over the whitetail rut in 2016. Can you predict which days to take off from work this year? Not until you know the weather forecast. For example, in most Northern locations November 8th is typically a can't miss date on the calendar to sit in a treestand. However, even the calendar can be deceiving. If November 8th features 30mph winds and a daytime high of 84 degrees, then save your sit for another day. But, if a major front just blew through, leaving November 8th to feature a high pressure blue sky days, calm to moderate winds and a 17 degree temperature drop from just 2 days prior; head to the woods! Make sure to check out my formula below, to predict your own 2016 whitetial rut forecast, because not all November 8ths are created equal.
My system for predicting the 2016 whitetail rut is simple and it all begins with food. A deer's stomach dictates so much of it's daily movement pattern that it should not only be the foundation for forecasting your deer hunting strategy during the entire season, but for the entire whitetail rut as well. Deer are rhythmic pattern feeders and typically feed 5 times during a 24-hour period. I believe you can relate: When you miss a meal, you become hungry. Of course deer don't share the complexities of life that cause our meal times to be disturbed, but they do experience several predictable feeding activity predictions that you can take advantage of to highly define the timing of your potential rut hunting success. They are: major temperature changes, extreme weather conditions and, changes in feeding intensities based on the phases of the moon.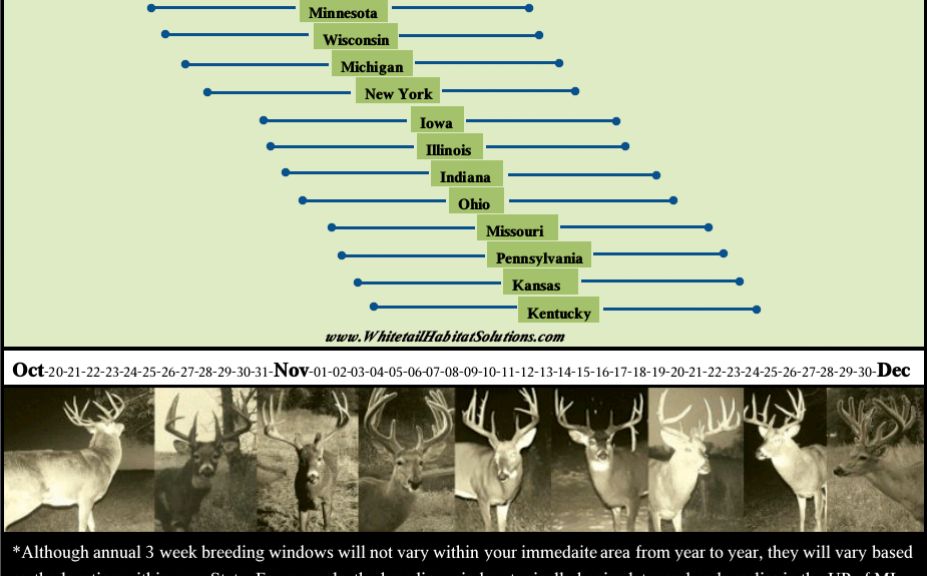 *Not experiencing any Pre Rut activity? You have to have core mature bucks living on or close to your land in order to experience the Pre Rut at its fullest. To make sure you are on track for experiencing the entire 2016 whitetail rut, check out how to hunt core mature bucks during the Pre Rut.
When To Hunt The 2016 Whitetail Rut:
The most successful hunters learn to think about what a particular mature buck is going to do, before that mature buck thinks about doing it himself. You have to dive into the mind of a mature buck. There are 2 types of approaches for hunting a mature buck. The first is to sit in a good spot for a mature buck during the peak of the rut, and hope one comes by. The 2nd approach is what I have followed since the early 90s, it is what teach and it is what most definitively will bring you the highest level of predictable success. This highly successful approach isn't for everyone though, unless you consistenly want to take the time to not only specifically target individual bucks and get to know them, as well as to be prepared to not hunt when the conditions are poor. For you to fully control your outcome for a specific mature buck during the 2016 whitetail rut, you will need to place yourself into the mind of a food, weather and rut stressed old monarch...
"Hours before his evening feeding, the great beast begins to feel the not so subtle hints of change in the air. The Easterly winds turn from the North and finally from the Northwest, with the ever increasing bitterness of a significant early November cold front. With each explosive gust the stress of creaking ancient trunks and breaking branches grows, as the full force of the storm has yet to reach it's climax. The unseasonably warm daytime high of 67 continues to plummet, and the wise old buck begins to feel the pains of hunger created through energy reserves that are being attacked by cold and stress. The deminished glow of the rising evening full moon, does little to relax the buck as the full force of the storm keeps him pinned down within his daytime hideaway. He cautiously stands and moves a few yards to browse on a squirrel's stash of several acorns, as well as the tender buds of young aspen shoots. The fall of a nearby mature oak increases his heart rate to a level equal to when he hears the howls of a wolf or coyote. After standing motionless for nearly a 1/2 hour the forest recluse returns to his nearby bed, effectively squashing any lingering thoughts of his most important feeding opportunity of the day, as well as his rutting urges. After a cold, dark, and significantly stress filled night the buck begins to sense that calming conditions are on the horizon. After 5 missed quality feeding opportunities, a 20 degree temperature drop and nearly 24 hours have passed, the great beast pulls his energy depleted magnificent frame to a standing position, as the primal urges of both feeding and rutting activity take over. He is ready; ready to move early, ready to move with a predictable purpose and ready to expose himself to a hunter who has recognized an incredible rut hunting opportunity."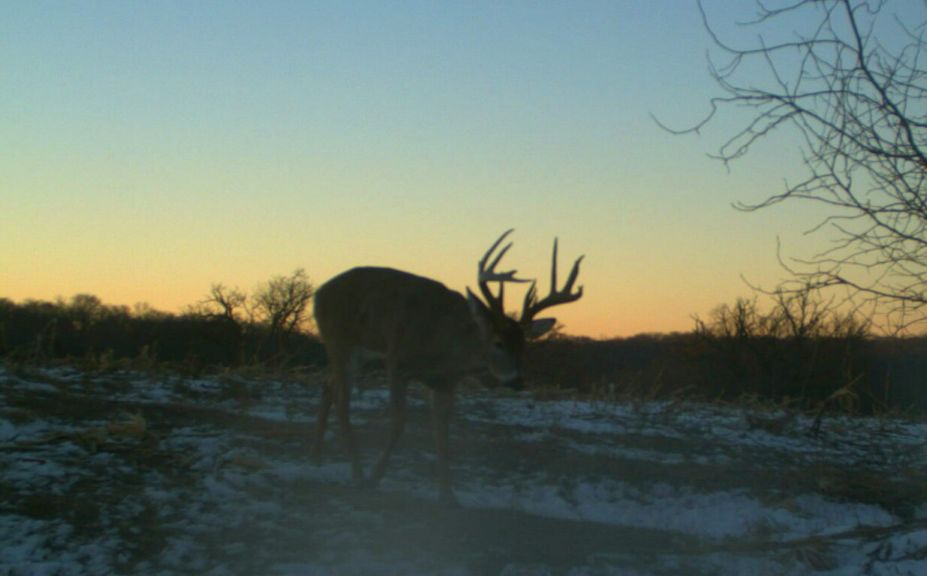 Formula For Predicting High Value Sits in 2016:
Whether you are hunting during the Early Bow Season, October Lull or during any phase of the rut, you can use this formula to let you know exactly when to hunt the 2016 Whitetail Rut. Not only is 1 sit during a quality day worth more than 10 poor quality days combined, hunting during low quality days will stress-out your treestands, family and boss, while often ruining a great sit opportunity before it even begins. You can use the following formula to calculate and forecast the potential quality of your entire season, let alone the entire rut.
Simply add up the points based on the weather forecast, and divide by 7. A score of 1-3 is very poor, and you are better off going fishing. A score of 4-6 is OK, and a good opportunity to scout a new parcel. A score of 7-10 presents the conditions that whitetail dreams are made of, and should be prioritized to the best of your ability. Keep in mind there maybe 10 days or less that feature a "9 or 10" the entire average 3 month hunting season. Those handful of prime days that appear during the entire 3 week window of the rut, are where you should expect to harvest the majority of your oldest bucks.
1) Forecasted Moon Phase +5 for Full Moon late morning sits -5 for Full Moon Evening sits+5 for dark moon evening sits (+/-5 pts)
2)Temp Change (pre-post front) +2 Points for every temp drop up to 20 degrees(2-40pts possible) -2 points for every degree of temp drop up to 40 points possible.
3) Wind Speed Post Front 0-10mph=5 pts, 11-15=3 pts, 16-20=1 point(1-5 pts possible)
4) Top Wind Speed in Front 1-10=1point,11-15=5pts,16-20=7pts,20+=10pts(1-10 pts possible)
5) Extreme Conditions During Front +2 each for extreme rain, wind (25+mph) snow, sleet, and thunder(0-10 pts possible)"Extreme" defined by Rain-.5"+, Wind-25mph+, any Freezing Rain, Snow-3-5"+, and any Thunder/Lightening.
6) Calm and or poor Days before the front/Poor Value Days 2days=1 point, 3days=3 pts, 4days=8 pts, 5days=10 pts-Poor days meaning, hot, windy, temperatures increasing or stable.
7 Value For Each Day After Front Day 1=Full Value, Day 2x.67, Day 3x.33-The first day after the front is the best day to be in a treestand. The 2nd day has a value of .67xfull value, the 3rd day has a value .33xfull value and by the 4th day, the new temperatures or conditions are the new "norm". For example if the daytime highs were 71,72,69,73,72 and then dropped to 51,50,53,52...by the time the 4th day rolled around temperatures in the low 50s, would be the new calm, boring and consistent day.
Formula Example: On October 27th, 2007 I arrowed a real nice 5 year old SW WI brute. Roughly 90% of my mature bucks have been taken during days that have featured a value of "7" or higher, and my 2007 buck was no exception. Here are the calculations:
October 26th, 2007 Morning Sit 1. Moon: +5 (Full moon rising during evening) 2. Temp Change: +40 (5 day drop) 3. Wind Speed Post Front: +5 (5mph) 4. Top Wind Speed During Front: +10 (Greater than 20mph) 5. Extreme Conditions: +2 (43mph winds) 6. Calm Days: +8 (4 days slow drop)*70/7=10 Value Sit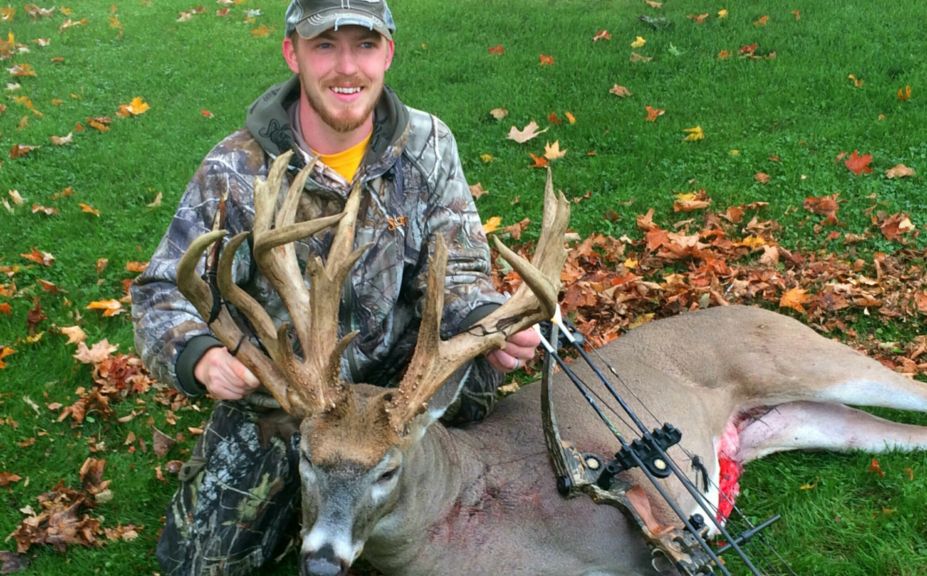 Before, During and After the 2016 Whitetail Rut: In 2015, Nick Bauman used my weather predictions to hit his stand much earlier than he normally would, to arrow a SW WI monster that grossed 220 2/8ths, making it the new #1 Vernon County Non-Typical Archery Buck. Although several hunters were hoping to get a crack at this particular buck, Nick heavily tilted the odds in his favor by not only using the weather to guide the timing of his sit, but by not wasting an opportunity by waiting until later during the season. You can read more about Nick's buck by checking out, Bauman's 2015 WI Giant Cold Weather Buck. However, here is the story straight from Nick.
Hey Jeff,
First off thanks for all the videos and posts that you have made. I read them all. But a special thanks is in order for your article last week. You talked about hunting the cold front Saturday. Well you convinced me enough to drive 2 hours to my parents hunting land to hunt. On a typical year I wouldnt have started hunting until mid October. But back to my story.
Its Saturday night and Im in my stand by 5pm. By 6:30 I had already seen 6 different bucks. No shooters or at least not what I was looking for. About 7pm that monster buck came out. Just like you predicted. We had pictures of this buck, and so did the surrounding properties. So how lucky I feel, to have gotten this buck; it is still overwhelming! I know that if I wouldnt have seen your message about hunting Saturday, I wouldnt have been in the woods.
Best regards,
Nick Bauman
I encourage you to follow these predictions so that like Nick, you can heavily tilt the odds in your favor this season for connecting with one of the oldest and wisest bucks in the woods, even if a dozen other hunters in the same neighborhood are targeting the same buck. It isn't the hunter with necessarily the best land or resources who consistently shoots the best bucks in your area, but instead the hunter who hunts the smartest. Knowing exactly when to hunt when everyone else around you is typically hunting too early or too late, will bring you great rewards.
*Once you you have watched the video and read the article for which days should be the best to hunt, make sure to learn how to easily predict how a mature buck travels!
How To Hunt The 2016 Whitetail Rut: Determining when and why to hunt the rut should be determined by the typical 3 week window in your area, as well as weather. However, each of the 3 phases of the whitetail rut requires slightly different tactics to create a consistent level of precision success.
1) 2016 Whitetail Pre Rut
Obviously I love a frosty mornings, and its because mature bucks can be considerably active during those Pre Rut, cold and calm mornings! Morning temperatures in the 20s are often still in the high 30s at noon, even if the daytime high will climb to 52 degrees. I find mature bucks cruising all morning long, with my sweet-spot of buck harvests occuring 2-4 hours after sunrise. During the middle of the day however, there really isnt much of a need for bucks to be overly active. Warming temperatures deminish buck activites considerably into the aftrnoon hours, but I have noticed a small increase in movement during the evening as the temps begin to fall during the last hour of daylight. My absolute favorite stand locations are positioned between mature buck daytime bedding areas, on secure, brushy travel corridors. When you add the topographical features of a connecting cruising bench you may find that you have located a reliable spot to kill a pre rut buck for many years to come!
The Pre Rut phase is not quite yet the time for all day sits. I have had great success with a pattern of hunting an oustanding morning stand that relates to a mature bucks daytime bedding area as late as noon and then switching to an evening stand that relates to food for the last 3 hours of the day, so that you can maintain a high value during each portion of the day. The majority of my oldest and largest bucks have been produced during Pre Rut morning hunts, but a couple of harvests have also come from evening Pre Rut sits, typically within an hour of dark or less. I place a huge priority on morning hunts during this phase because I have experienced that I have several hours more during a sit to take advantage of mature buck movements, than during the evening hours. This is also the time when I have been able to effectively target a specific mature buck that I may have been after for years, while he is still within a very definitive Pre Rut, core pattern of movement. Until that buck has a tough time finding does within his core area, he will stay fairly local, but like all good things, they must eventually come to an end and he will begin to range far and wide for his next receptive doe during the end of the 2nd phase and 3rd phase of the rut.
2) 2016 Whitetail Peak Rut
My favorite tactic for hunting the Peak Rut is to take a stand between well-known doe bedding areas during the morning hours, and on the downwind side of food sources during the evening hours. Of course each stand locations is doe-related, but at the same time I feel that you should have a different focus for morning vs evening sits for the majority of the hunting season, and the Peak Rut is no exception. After the deer clear the fields during the middle of the night to early morning, they are packed back into their bedding areas. Mature bucks know this too! A mature buck that isnt already with a doe at this time of the season will be actively seeking does where they bed. At the same time, a mature buck that is already with a doe in a bedding area, will most likely have to move around within that bedding area to assert his dominance over other bucks that have the intention of stealing that doe for themselves. Whether a mature bucks is displaying his dominance within a bedding area, or cruising doe family group bedding areas looking for his next doe, placing yourself between a couple of mid-day doe hotspots gives yourself an excellent position to intercept both breeding movements. Adding a waterhole to a likely funnel or travel corridor is sometimes a great quick-stop precision attraction for your set-up. Regardless of how great your morning set-up is, as the afternoon hours being to take hold you may find that what was a great early morning spot produces fewer and fewer deer sightings, and there is a good reason for that!
During the evening hours, the same mature bucks are likely attempting to control and breed the same does, but virtually every deer in the woods is heading towards their evening food sources. By taking a stand position on the downwind side of a food source you can take advantage of two separate movements as well, similar to your morning stand location. Mature bucks with a doe, can be targeted as they travel towards evening food sources, and mature bucks without a doe can often be found as they cruise parallel strips of cover on the downwind side of a food source. Again, by adding a waterhole your odds for producing precision movements may increase drastically! This cycle of random, hit or miss Peak Rut opportunities can last from a week to 10 days or more, but eventually the pattern is over, and it wont take place for another year.
3) 2016 Whitetail Post Rut
Do you have stand locations that allow you to observe major doe movements as they shuffle safely by you on the way to their favorite evening food source? Those can be killer spots to ambush one of the oldest bucks in the neighborhood. But be vary cautious, those does have been pestered and chased for over 3 weeks at this point, and often dont take warmly to an approaching interlopereither by you or a buck! Several years ago I was seconds away from drawing on a huge, unrecognizable buck during the Post Rut. He was big, aggressive, and started to focus his attention on a handful of fawns within 20 yards of me. When the mothers feeding about 50 yards away discovered his advances-they immediately exited the field. I was left wondering exactly what happened, when in reality they just didnt care for his sudden appearance into their otherwise stress-free dinnertime.
By focusing on food during the evening, and major funnels of movement during the daytime you may get a chance at one of the oldes bucks in the area. Try to focus on the areas on the land that you hunt that could facilitate mature buck movements from neighboring lands. I love to hunt the edge of a major bedding area that attaches to heavy cover extending for several hundred yards away from the land that I hunt, and towards a known mature buck area. An evening hunt that allows you to watch major doe movements as they exit a bedding area attaching to other remote areas, may give you the perfect opportunity to experience an opportunity on a buck that moves into your land during the night or day through heavy cover. Cold, evening sits have been my #1 pattern for observing Post Rut bucks while they are simply following the doe herd to their preferred evening food source.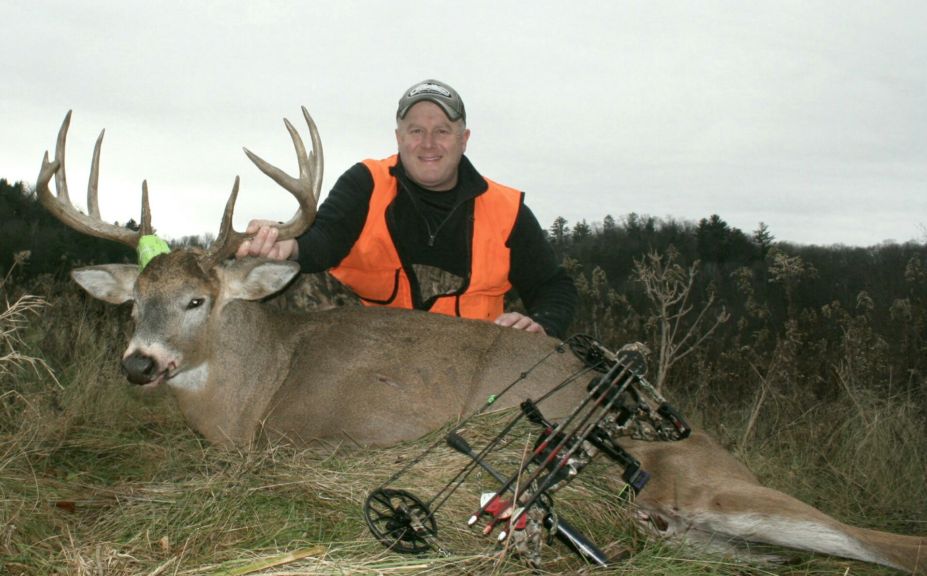 *This last-day-of-gun-seaon Post Rut monster gave me an outstanding opportunity to fill my 2015 WI Archery Tag, during ideal weather conditions. For a detailed look at how to navigate the 2016 Whitetail Post Rut, check out "Post Rut Phase of The Whitetail Rut".
Your Own Personal 2016 Whitetail Rut Forecast: Let's face it, many of you are not professional hunters, who can take endless amounts of time off during the entire season deer season to travel and hunt in several different states. However, that being said, even those of us who have full time careers within the whitetail industry, still need to be efficient with our time. My own personal goal is to harvest my target buck(s) on any of the lands that I hunt, over 80% of the time. Does that seem unrealistic? It isn't, and I have been able to maintain that pace since the early 90s by using the 3 Factors of Food, Weather and Traditional Whitetail Rut Windows, to successfully predict both when and how to hunt. You can indeed, Shoot More Deer From The Couch, because the sum of hunting fewer days that are near perfect, is several times greater than hunting many low quality days. Would you like your neighbors to wonder what the heck you are doing that allows you to be so successful each year? Then learn to only head to your favorite rut stands when the value is high enough not only for the entire 2016 whitetail rut, but for the entire 2016 hunting season.
Every year there is a huge amount of online clutter when it comes to forecasting the annual whitetail rut. Folks, it isn't as difficult as it may seem. Why will a mature buck move during a given day? Try using the factors discussed in this article to allow you to dive into the mind of your prey, so that you can difinitively predict his movements before he even thinks of completing them himself. Even if your time in the woods is limited each Fall, by letting your own forecast guide your high value sit opportunities all season long, your 2016 whitetail rut efforts will be highly rewarded.