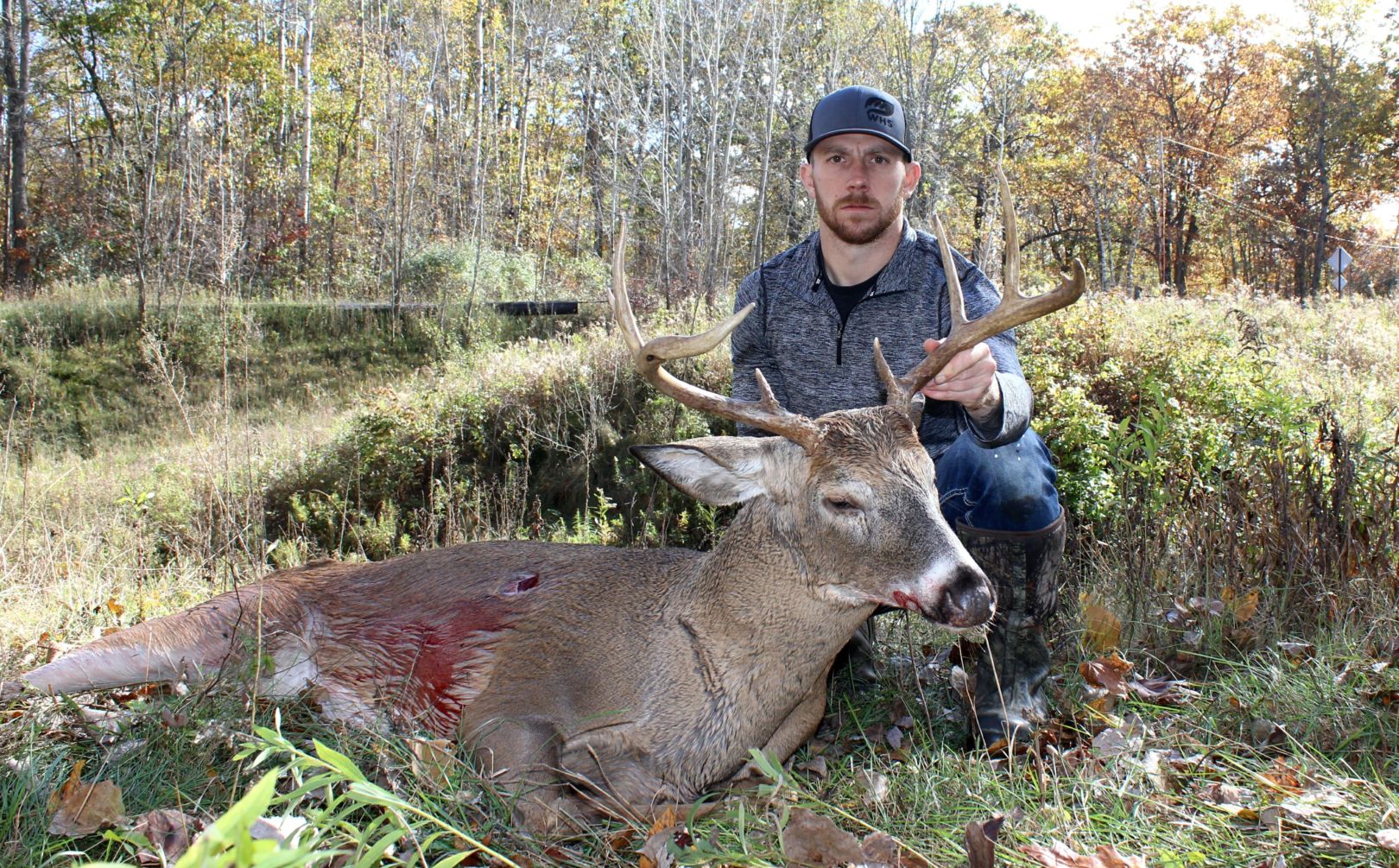 Ross Fernandez from WHS Turnkey Habitats is more than just another whitetail consultant. From MI to anywhere else a whitetail roams, Ross specializes in turning your whitetail design into reality, including: Hinge cut bedding areas, waterhole creations, food plot management and native grass plantings. Ross uses a high level of experience to make sure that your dream parcel is installed correctly, based on the concepts and strategies originated by Whitetail Habitat Solutions founder, Jeff Sturgis.
The Ross Fernandez Whitetail Story
"Can you really control daytime deer movement, specifically mature bucks? This was a concept that became so intriguing to me, it was all I could focus on when it came to whitetail strategies. Growing up, I was fortunate enough to harvest several mature Michigan bucks in an area that was generally not conducive to producing them. But now I was asking myself, can I control how they move? Is it possible? How do I compete with the draw of a large ag field or a cedar swamp? These types of specific habitat resonate in a hunter's mind as go-to places to locate a mature buck.
Along my journey through life, I've been fortunate enough to establish friendships with some truly amazing and unique people. My Grandpa told me when I was young that the people you keep around you are a direct reflection of yourself. I always remembered that conversation with Grandpa, and his words of wisdom proved accurate. About 12 years ago, I met Jeff Sturgis and we established an immediate friendship, which of course went against everything my Grandpa had told me about choosing my friends wisely. Oh well, he seems like a good guy, I'll give this one a shot ;-).
His wealth of whitetail knowledge became something I immediately gravitated towards and we both seem to enjoy the finer things in life, including: Family, hunting, and discussing our extensive habitat plans over a few wobbly pops on a Saturday afternoon. Through our in-depth conversations, we were continually bouncing ideas off one another, with me doing most of the bouncing! It didn't take long and we had managed to come up perfect plan for my 67 acres. It was going to have grass, a highly protected large destination food source with travel corridors, and several pinch points connecting bedding areas. These were defined by not only natural topography and waterways, but also by our precise hinge cutting and plantings. After all, we did intend on using the properties natural assets and manipulate those to our advantage. Now that the details of our whitetail blueprint were complete, it was time to put this plan into action. This won't take long I said to myself, seemed like the hard work was already done. I may have slightly underestimated the work we faced ahead!
*Ross applies what has worked for himself first, to your land!

Ross Fernandez Whitetail Habitat and Hunting Success
"Eight years later, I've got the property exactly where it needs to be to offer high percentage sits on a consistent basis. I made the decision to establish a large food source in the most secure spot on the property. I figured if I located food in an area where it would incur even the slightest amount of pressure, it certainly would displace deer, specifically mature bucks, out into the AG fields. This is something I couldn't afford to have happen if I planned to be successful. I also anchored two corners of the property with heavy bedding, this allowed me to begin connecting the dots.
The 2017 season arrived, and with it came a buck I affectionately dubbed, "Stubby the short browed 8." I scouted him in the area during the velvet stage, and assumed that he would be a regular on the property as the season neared. Not only did he become a regular on the property, he brought some friends along! There were at least three other mature bucks on the property now. At this point, I was more than excited, and couldn't wait to get in a tree. Finally, the property was doing precisely what I had planned, controlling where these mature bucks called home. In fact, it was working so well, that all of these bucks were bedding on the same 67 acre parcel!
I carefully planned when/where I would hunt when the early season arrived. I sat only three times in early October, each time getting looks at mature bucks, including stubby! Everything was falling into place and my confidence level was high as the season progressed. All I needed now was to wait for the ideal conditions and for Stubby to make a mistake. Just when I thought I was going to get my chance, the weather had other ideas and I was forced to wait a week until my next hunt. I needed the right wind, the right day, and most importantly, the right spot. October 26 th turned out to be that day when everything lined up and the conditions were perfect. As I sat in my stand with great anticipation,Stubby made his appearance! He was working back to his bedding area, traveling along my tributary style plot that fed into the destination food source. As he came within range, my heart raced as I knew the moment of truth had arrived! I made a great shot on him and this immediately became one of my favorite hunts! He isn't my highest scoring buck that I've taken, but he is special. What makes this hunt and deer so different from the others, is that nothing about this encounter was happenstance. He did everything I expected him to do, and although I had pictured it in my head a thousand times, experiencing it was exhilarating! The fact that he felt comfortable feeding during the day in my main food plot throughout the entire month of October was all the proof I needed, that plan had worked, just as Jeff and I knew it would!"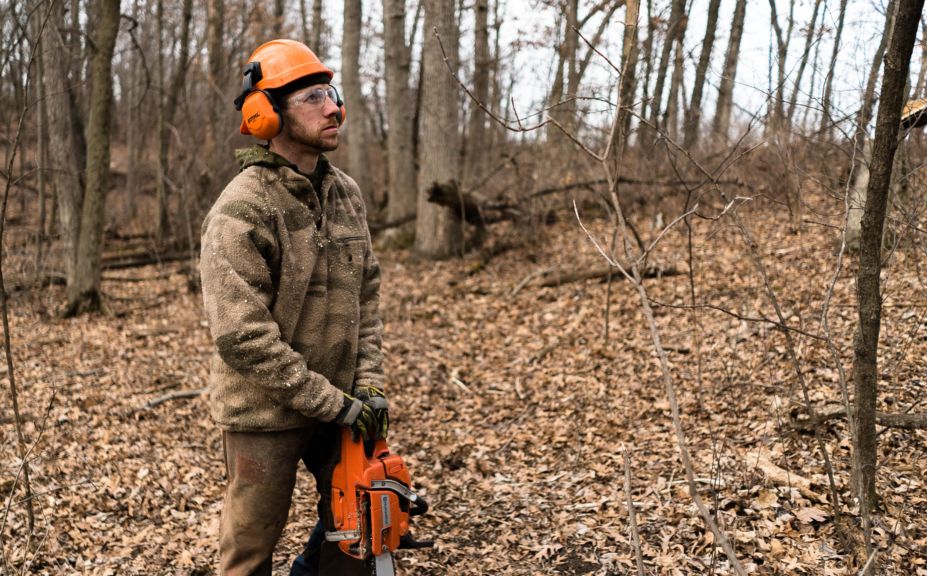 Proven Original Whitetail Design Strategies
"It was going to have grass, a highly protected large destination food source with travel corridors, and several pinch points connecting bedding areas."
What Ross doesn't dive into is his extensive understanding of the founding principles of habitat herd and hunting management, that WHS offers. Perpendicular Hunting Access, Paralleling Habitat Features, Whitetail Lines of Movements, Patterns of Deer Use, Depth of Bedding Cover, Layered Doe and Buck Bedding, Afternoon Food Source Rhythmic Pattern, The Annual Whitetail Shift and Whitetail Parcel Efficiency Ratios are just some of the concepts originally founded, named and created by Jeff Sturgis. Ross Fernandez is on the short list of 2 people in the entire country, that have the experience and knowledge to understand, design, merge and create these concepts on your whitetail parcel.
*A glimpse at Ross Fernandez in action...
Conclusion
How do you become a quality whitetail habitat and hunting consultant? By accumulating years and years of experience that translates into success on your own; first! Ross has been a proven student of whitetail habitat, herd and hunting management in MI for decades. During the past several years, Ross has been taking his expertise on the road to the entire Midwest and beyond, for WHS Turnkey Habitat clients. Ross Fernandez is a great whitetail habitat success story all by himself, but at an even higher level of enjoyment is what Ross brings to the table when it comes to helping clients reach their whitetail dreams.