Where and how you place your trail cam can lead to random glimpses or a world of opportunity. This is how we use one trail cam to take a census of nearly every buck within the neighborhood! Are you getting the most out of your trail cam location strategy?
Getting the most out of your trail cam location strategy
I will let the video explain the entire process, but by offering a few important ingredients, I have experienced that you can capture a hunting-season census of nearly every buck in the neighborhood:
1. Quality, diverse food plot system with adequate cover in and around the plots. This allows a buck of any age to feel comfortable within the area - as well as be attracted to the location in the first place! Also, the plots have to be unpressured. These particular food plots in the video were not hunted until the 7th day of gun season, after Thanksgiving.
2. ONE (very important) high quality mock scrape. What happens when you add more than 1? The value of every mock scrape is lowered. Instead, by adding only 1 you can create an exceptional, high quality pinpoint location that you can attract every buck that visits the area to.
3. Trails, trails and more trails. When all trails lead past the camera and to the scrape, it's hard NOT to attract a buck. Some of the trails have even been chemically controlled, to insure a solid, 1' wide dirt path that mature bucks can't resist.
4. Infrequent trail can check-ups. In this trail cam location our strategy is to check the camera, only when high winds and/or heavy rain is occuring. Although this allows us to still check the trail cam every 2-3 weeks - we do so very unabtrusively!
5. A quality camera! This particular Exodus Trail Cam has been running since July, on 1 set of Lithium batteries. With a company that stands behind their trail cameras with a 5 year, 100% warranty, I know I can count on them with not only my passion, but my career.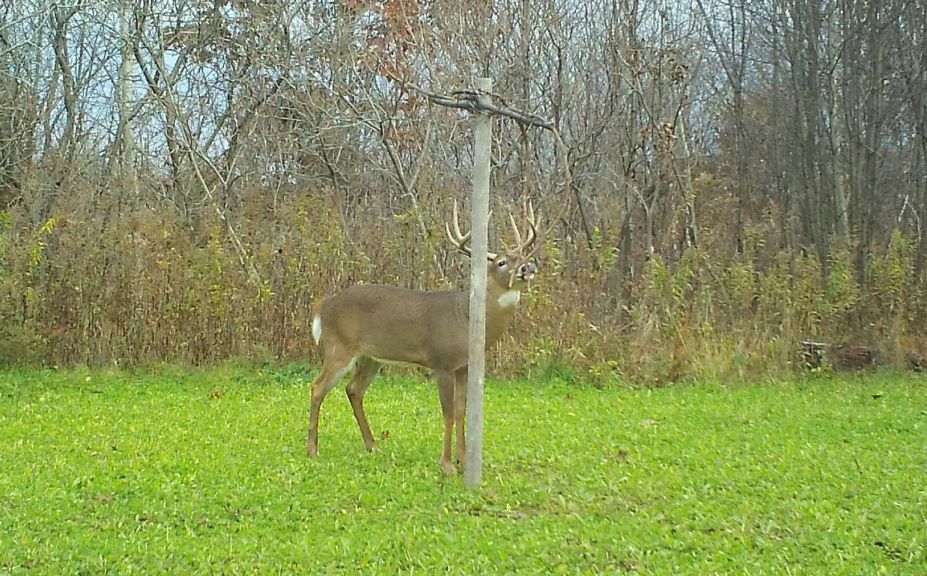 Conclusion
There is a world of opportunity waiting for you, when it comes to using your trail cam location strategy to actually capture pictures, of nearly all the neighborhood bucks. This is so important, because it allows you not only establish realistic herd and hunting goals, but to compare your habitat progression from year to year. By tailoring a high quality trail camera location to meet these 5 criterion, you can confidently expect to gather photos and accurately inventory over 90% of the local buck herd throughout the entire season!
You'll notice that the majority of our DeerLab Profile Photos on this property consist of pictures collected at the trail cam location described above. If you're interested in learning more and experiencing how DeerLab can help your hunting efforts, try a 30 Day Free Trial of DeerLab!