Every time Spring green-up rolls around, it is a great time to begin creating switchgrass deer bedding pockets, for the following Spring. Do you have an old fallow field that lacks enough structure to promote daytime deer bedding opportunity? Then planting switchgrass bedding habitat can provide quick, high quality cover in 18 months or less. However, it pays to begin right now to take advantage of this easy, sure-fire planting method for high quality deer bedding habitat.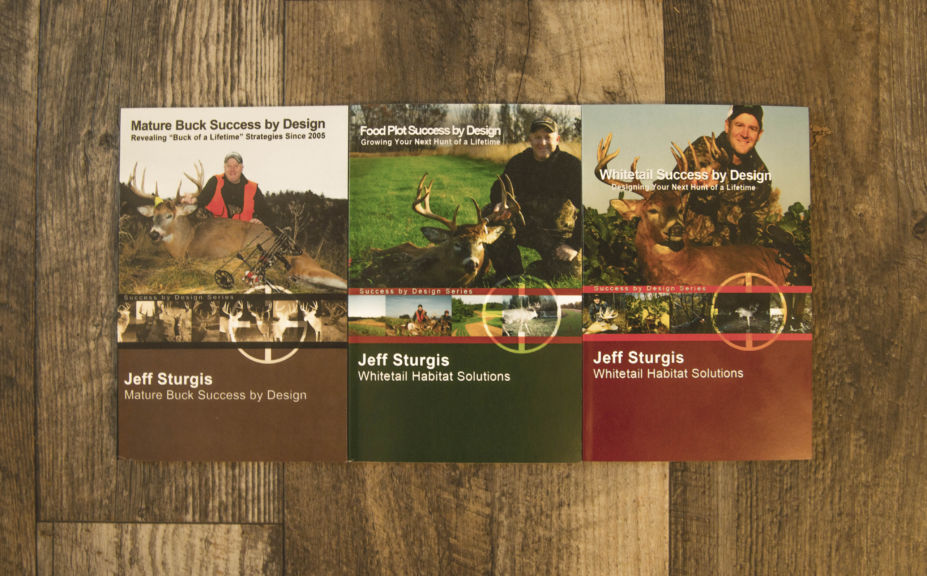 *Don't forget to check out my trilogy of Advanced Whitetail Habitat and Hunting Books.
Why and Where For Switchgrass Deer Bedding:
Let's face it, enough early successional growth to successfully hide deer during the daytime, can take 5-8 years to develop in the best case scenarios, and a few decades in the worst. The old field pictured above, for example, hasn't been farmed in several decades. However, even after letting the rolling hills of open fallow ground sit idle for many years, there is still not enough growth, to support even just a handful of bedded deer during the hours of daylight. That is where the switchgrass comes in.
A pure switchgrass variety like Cave In Rock, can provide the deer bedding structure that is needed to offer a massive boost to your deer bedding creation efforts. But don't be lured into "diversifying" the planting with other grasses, such as big blue stem, little blue stem or Indian grass. Why? Because each of those warm season grasses will lay down quickly with the first heavy, wet snowfall, leaving the deer without any appreciable bedding structure to relate to. Also, if your ground is like most, the number of early successional weeds, grasses, shrubs and trees that should be present in your field, will already be providing a bounty of sufficient habitat diversity.
In the picture above, I chose 4 areas within the 8 acre chunk of fallow ground, that featured flat benches and points for quality bedding opportunity. Although each future bedding pocket will vary greatly in size and shape, they will each create adeqaute bedding opportunity for a doe family group or random young buck. I do not anticipate that a mature buck will use these particular bedding pockets, because of their proximity to high quality food sources and doe family groups. An increased level of herd stress in the field, due to the quality Fall food sources, is still highly attractive to doe family groups, however, it is not what a mature buck is looking for when looking to establish his daytime core area. By offering bedding areas within the field, I can expect to pull doe family groups out of their bedding areas in the hills, and into the new switchgrass bedding habitat. What should take over their wooded bedding areas? Bucks, and hopefully a mature buck or two.
Most importantly about each of the potential pockets is that they are hidden. They are hidden from hunter access routes, as well as any deer that may be feeding on the adjacent food plots. If your land is completely flat, your bedding pockets will still offer a very high level of bedding opportunity for deer if they can be hidden, not only from your hunter access routes, but from each other.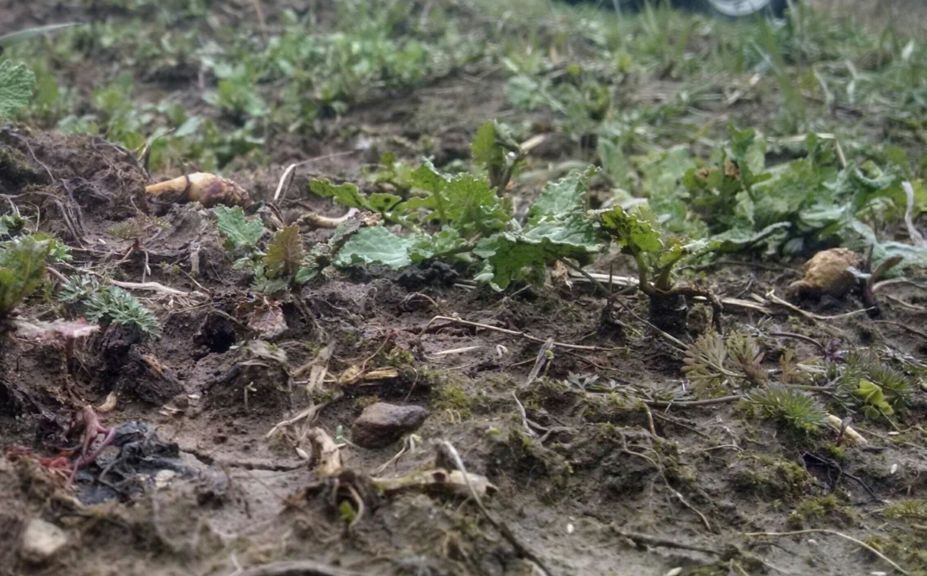 *Once your deer bedding pocket locations are reduced to bare soil, it is time to frost seed! For the complete breakdown of the recipe, check out"Switchgrass Plantings For Deer Bedding".
Today's Weeds, Tomorrow's Switchgrass?
OK, it takes a lot more time than a day, but you can turn an area with briars, golden rod and ragweed into a beautiful field of switchgrass, with just a sprayer and hand-held broadcaster. The key is turning your potential bedding pocket habitat, into bare and mostly exposed soil by Winter. And during the process, you may even want to take advantage of the Fall food plot planting opportunity that you will create. Here are the basics for creating your switchgrass deer bedding pockets:
1) In the Spring, spray when the weeds are 5-15" and growing aggressively, with a mix containing 2 quarts per acre of Glyphosate and 1 pint per acre of 2-4D. Although your rate may vary, I typically spray 2 full acres with my 25 gallon ATV sprayer with a 2 nozzle 40" boom, at roughly 7-8 miles per hour.
2) 4-6 weeks later spray again with 2 quarts per acre of Glyphosate. The 2-4D will not be needed.
3) 4-6 weeks later, spray with 1 quart per acre of Glyphosate.
4) During the late Winter, at least 4-6 weeks prior to Spring green-up, frost seed 5-6 pounds per acre of Cave In Rock switchgrass, by using a hand held or ATV broadcaster. Broadcasting on a light snow covering can be a great practice, offering you the ability to easily observe your seed distribution rates.
5) 2-3 weeks prior to traditional Spring green-up periods, apply up to 4 quarts per acre of Simazine if you have heavy clay soils, and down to 2.5 quarts per acre if you have light soils.
6) The following Spring, you can apply Simazine at the same time as the first year, if weeds are still present.
I find this method far superior to traditional planting methods with a drill and tractor, for several reasons, Including: Immediate germination when soil temperatures reach 55 degress, significantly reduced weed competition and the elimination of mowing practices to reduce weed growth. Your new switchgrass plantings should be weed free, structurally significant, and able to provide the necessary daytime deer bedding habitat by the following Fall. In fact, average growth rates should create high quality bedding pockets that reach heights of 6' or more, by the end of the 2nd Summer of growth.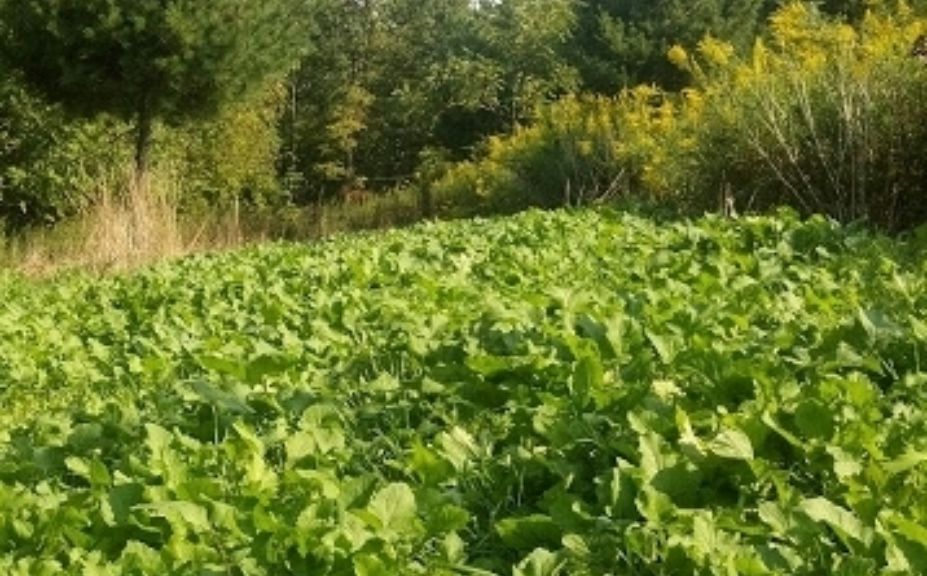 *During the process of creating future switchgrass bedding pockets, you will find an outstanding opportunity to experience a no till food plot. How do you plant one? It is easy, just follow the directions found in this article, "Easy No Till Food Plot Methods".
Conclusion...Less Is More!
Just an acre of scattered switchgrass deer bedding pockets, can create adequate deer bedding opportunity within 8-10 acres or more of early successional growth. Often, you can speed up the usefulness of the fallow field by sometimes a decade or more, in your field's ability to actually hold deer, during the day. I would like you to do 3 things this Spring:
1) Start spraying now, for your switchgrass deer bedding pockets tomorrow.
2) Consider planting a food plot in the same location this Fall, if it fits within the alignment of your food plots
3) Make sure to sign up to be on our email list, so that you do not miss out on several MAJOR announcements coming during the next couple of months. WHS is growing, and we can't wait to show you how!