There is nothing better than sitting over a late season food plot while piles of deer swarm in! However, is your late season hunting opportunity over your field of dreams, a bust before it even begins?
Creating a late season sure-fire hunt over a food plot is fairly easy to accomplish, but have you put as much time into planning your hunt, as you have what you planted or how the food plot relates to your ability to hunt it? Late season food plot hunting opportunities take a little bit of decent food and a lot more of patience to get the job done. The hunt featured in the video and pictures included in this article took place the 7th day of WI's gun season (November 25th), during the very first sit on the entire plot system for this 40 acre parcel, since September. This plot system is the anchor for the entire 40 acres of hunting strategies, and the 9 stand locations that are supported by those strategies. Patience was key for not only this hunt, but for the several other mature bucks that have fallen on this land over the last 3 seasons. Here are 5 ways to make sure that you can expereince the same while hunting your own late season food plot: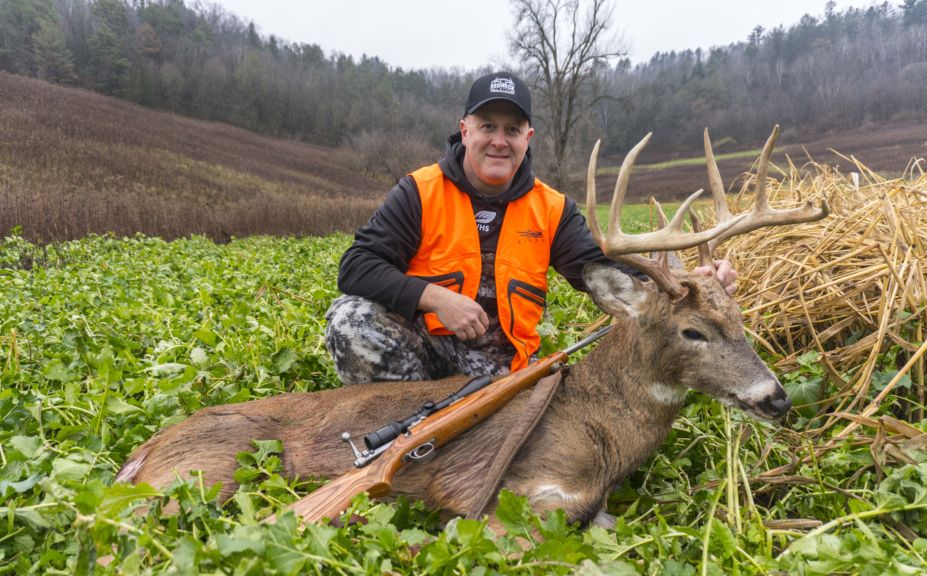 *Whether by gun or bow, your late season food plot hunt for a giant needs to begin with a lot less focus on the variety of seed, and more with a solid overall food plot strategy. For a comlete guide to your overall food plot strategy, make sure to check out Food Plot Success By Design,which is most likely the most advanced food plot strategy book currently available.
Late Season Food Plot Hunting Necessities
Without a great plan and a lot of patience while executing that plan, your food plot can actually be doing more harm than good during the entire season, let alone the late season. There have been 5 necessary ingredients that I have found you have to include, for you to find success!
1. Hidden Food Plot Access
If you can't get in and out of your blind or stand without spooking deer, then you need to go back to the drawing board. The particular food plot system shown in this weeks episode of Whitetails By Design TV, is the anchor of movement for 30 acres of cover. The food plots support the afternoon daily movement each day of the entire hunting season and directly relates to the value of each stand location on the parcel. If the food is spooked just 1 time the movement suffers on the entire parcel for a week or more. If the food plots are overpressured by hunters just two to three times the entire chunk of hunting land is greatly deminished in value for a month or more and if these food plots were pressured weekly, the entire rut, gun season and late season opportunities would be virtually non-existent. Again if you can't get in and out of a food source stand without spooking deer (even several hours later as they travel by and smell where you have been), then do you land and self a favor by leaving it alone.
2. Focus Less On The Variety Of Food Plot Seed
Your success will not be found in the type of seed (or brand) that you plant, but instead in the entire concept of why, where, how and when you hunt your food plot in the first place. Most late season hunting opportunities never happen not because of the seed variety planted, but because the local deer herd has recognized the food source as a high level of risk since the season began. Where you locate your food plots and how those locations relate to your movements while hunting, is of far greater concern than the brand or variety of seed that you should plant.
3. Area Food Source Diversity
Deer crave food source diversity. If your neighbors have corn and beans in their ag fields, try a mix of greens including oats, Winter Rye, clover and brassicas. If your neighbors have huge food plots or ag fields of greens, try hitting your plots with a large mix of corn, beans and greens. A sure way to attract and promote daily use by the local deer herd is to offer them a level of diversity not found in the rest of the area.
4. Food Plot Patience is Key
In most areas of the country food plots are hit hard, often and early by hunters. If your food plot system is the only location in the neighborhood that offers unpressured daytime feeding opportunities for the local deer herd, then you can expect them to take serious notice! When the time is right for the harvest of a giant buck or an unsuspecting doe herd, your food plots will be primed and ready to provide at a rate of success that is hard to imagine, unless you have experienced it before.
5. Choose Your Hunts Wisely
Is it warm or windy? Then don't bother hunting. The poor days of hunting set up the great days of hunting to an even higher level. Combining obvious weather opportunities with the fact that most area food sources have been over-run by hunters the entire season, the late season can become one of the most defined times to shoot a giant during the entire season.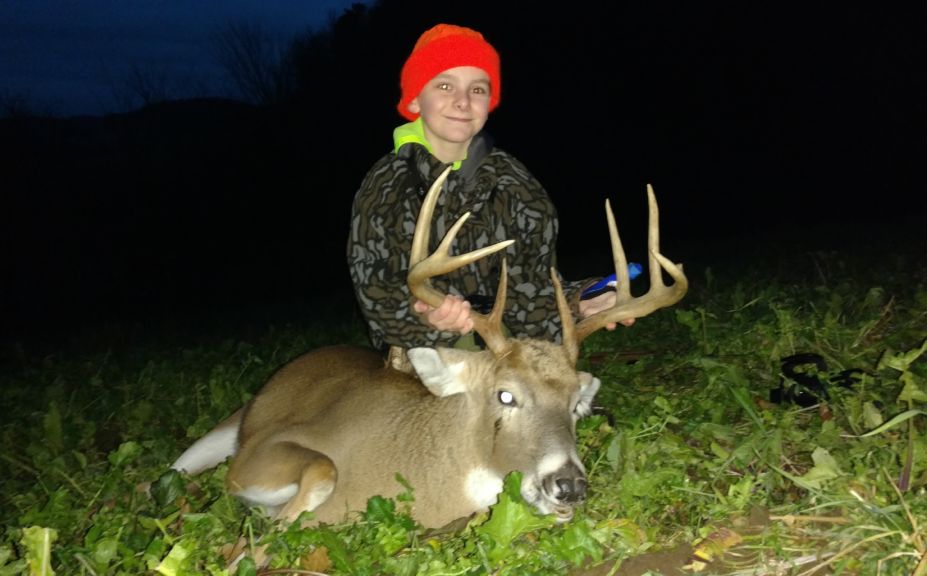 *It almost seems too comfortable, but the hunt with my 11 year old son was experienced while enjoying the luxury of a scent-tite Redneck Hunting Blind. The deer had no idea my son and I were waiting and watching, in particular since the entire food plot system had not been hunted for over 2 months.
Is Quality Late Season Cover Important?
As long as deer have enough space to bed during the daylight hours, unpressured low quality cover trumps heavily pressured high quality cover every single time. The same can be said for food and when you add low unpressured cover and food together, you can create one of the most attractive settings in the neighborhood for a wise old buck. Often too much attention is given to the quality of cover and food, when really in a whitetail's world, safety is of much greater value than how pretty the label on the bag of seed looked when you picked it up from the store.
Conclusion
Good things come to those that wait, and the level of defined opportunity that you can experience when it comes to hunting a late season food plot is no exception. However, if you are successful in creating the perfect December hunt, you will also find that your early season, October lull, whitetail rut and gun season will also deliver as well. If you find that your late season hunting success is lacking, it may be time to take a step back and make sure that you are accomplishing the above 5 necessities before the season even begins.