Of course Egyptian Wheat (EW) makes a great visual screen for your food plots, but how about a deer blind too? Actually, have you even heard of Egyptian Wheat? We will talk about the deer blind in a bit, but EW has been used for years as an incredibly effective plot screening planting. I first started recommending EW to my clients roughly 5 years ago, and I love to plant it much thicker than traditional farming practices suggest. Instead of 8-12#s, I broadcast 15-20#s per acre. My goal is not for the planting to reach it's potential of 13' high and giant seed heads, but instead to target a potential of 8-10' high within a thick, self-supporting stand. A tighter spacing between the stalks and smaller seed heads seems to have a much better ability to withstand heavy snows, and in some cases I have had clients carry a very strong stand of EW into late winter following repeated snows. But regardless, here is my preferred planting method...and it really isn't very difficult: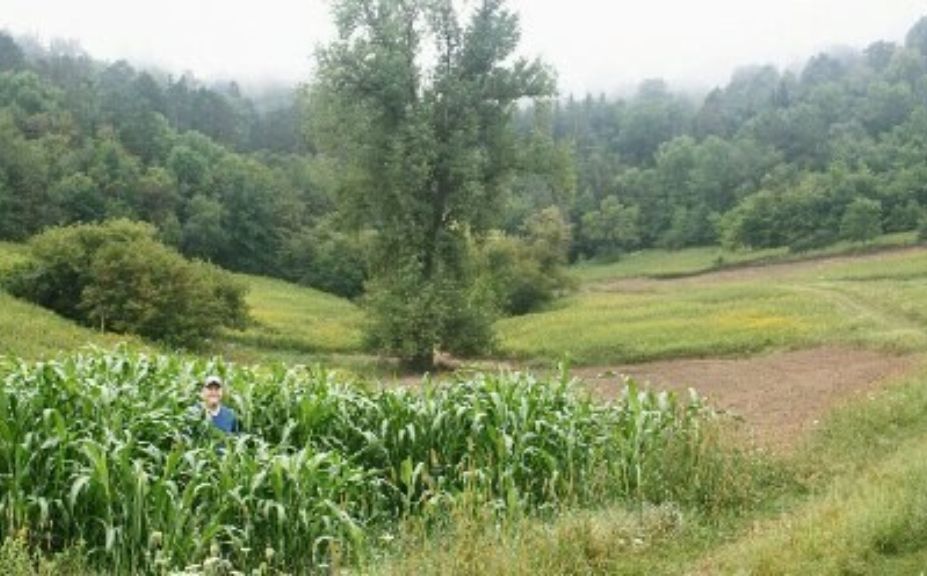 1. Use a hand-broadcaster to spread 15-20#s per acre on a prepared seed bed in early June. EW has a little over a 100 day maturity rate so depending on where you live there is quite a bit of flexibility. The above planting picture is from an August 23rd picture, following a late June planting date. For reference, I am 5' 9" (on a good day!).

2. Although with heavy rains and recently prepared soils you may experience adequate germination rates, I recommend that you drag or lightly disc the seed into the soil, and cultipack soon after. The use of ATV tires, truck tires, tractor tires, etc can work very well to finish off your planting.
3. EW loves nitrogen, so outside of soil test recommendations do not hesitate to broadcast an additional 50-100#s of 46-0-0 approximately 4-6 weeks following germination, prior to a significant rain event.
-and that's it...it is that simple!
EW makes a great, annual plot screen for several reasons:
*It is not deer food. If you are trying to screen a food plot planting from your access, from a nearby road, or even your home or cabin, using a seed variety that lacks a component of food is generally best. This keeps the deer on the "right" side of the screen, and not within the screen where they can potentially see you accessing a stand location. This is why often corn, for example, is often not the best choice for a screen.
*Within 100 days, you can have an oustanding screen that lasts well into the heart of the Winter.
*EW makes a perfect temporary screen, while adjacent perennial screens of switchgrass, shrubs or conifers eventually take over. Think of EW as a short-term solution of 1-3 years, quick growing pines as an intermediate tool for years 4-12, and slower growing but long-lived spruce trees as the long-term permanent fix.
*EW, is easy to plant!
*EW makes a great spot to locate a deer blind...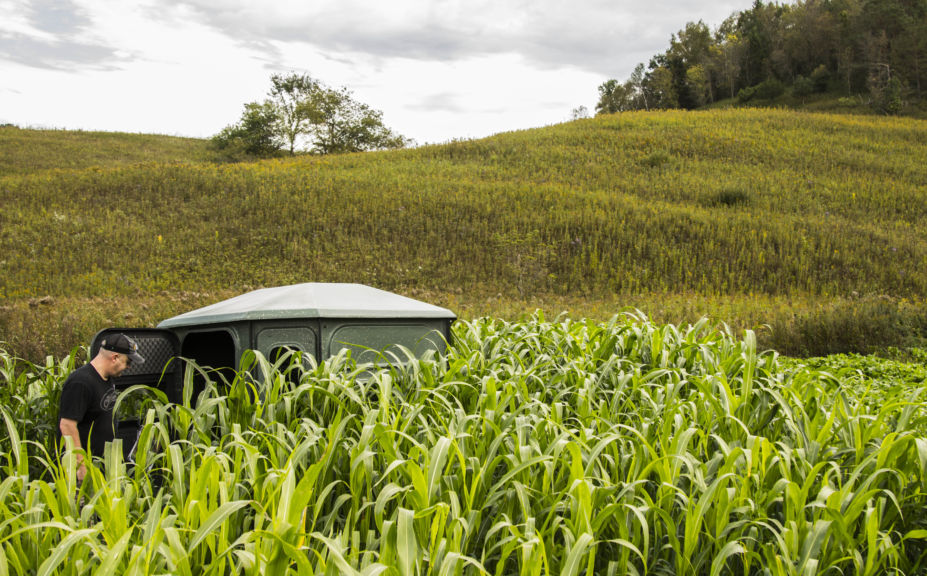 Need Deer-Blind Cover?
I typically do not hunt my food plots, in particular my large and hidden destination plots that are the foundation of the parcel's daily deer movements. However, for a mid-September archery hunt with my kids from a pop-up blind-perfect! When the EW is about a foot taller (next weekend) I will install my pop-up blind within the wheat, including a couple of small shooting holes into the food plot. My son Jake will be the shooter...and the rest of us hope to witness him harvesting a nice, fat doe! We will enter the blind during the middle of the afternoon, with a fairly hidden approach from the deer bedding within the upper, wooded benches. This is a "one and done" hunt, with plenty of time for the deer herd to forgive our early season intrusion before the real serious hunting begins during mid to late October. I will add a picture with the installed blind soon, but I hope that you can visualize how hidden the blind truly will be, even within a fairly small planting of EW.
John Komp from Northwoods Whitetails, Inc. is one of the only sources that I know of for small quantities of EW. John is also a great source for other various high quality forages, including my favorite brassica blend growing in the field behind the EW. There are other sources for seed for large quantities, but a little bit of seed goes a very long ways. Consider that at 20#s per acre a 10' wide screen of EW can run for roughly 2 miles with only 50#s of seed. How much did it take for my blind/screening creation? A large handful! So ordering in small quantities of Egyptian Wheat may be your best bet for all of your screening needs.