It's time to make sure your deer blind strategies include more than just buying a great blind and setting it up in the middle of your favorite food plot. If only it was that easy! The most important step to consider is what state you hunt in, and how much pressure the deer in the area are subjected to throughout the season before you purchase, set or hunt a blind. If you live in one of the high pressure states like Michigan, New York, Pennsylvania, Ohio, Indiana, Wisconsin and Minnesota, you undoubtedly experience an extremely high number of hunters each season. In those states, mature deer are conditioned to tolerate very little pressure or hunter intrusion before spooking, and poorly executed deer blind practices can be your biggest road to spooking the greatest amount of deer. Here are some excellent deer blind strategies to employ for deer blind success - regardless of if you live in a high pressure state, or not.
1. The Quality of Your Deer Blind Matters
When choosing a blind, looking for these criteria will ensure that you choose a quality blind that will in turn help you harvest more mature bucks.
One Solid Piece
A great advantage of hunting from a solid, one piece blind is that they are nearly completely air tight. This is a great scent control bonus.
Materials Matter
My favorite deer blind materials are scentless. Rubber, fiberglass and plastic are some of the best materials to not only carry very little scent, but to allow scent molecules to adhere to their surfaces. While wood and fabric can be much cheaper to use for construction, either can create varying degrees of scent that a mature buck can pick up on. I also opt for powder-coated steal for platforms and climbing structures, over wood.
Blacked Out
Keeping the inside of your blind as dark as possible will help you move in it without getting spotted. Blinds with curtains and tinted glass have the upper hand in concealing your movement, as well as interior flat black gel coatings which feature low scent levels combined with high concealment levels.
Window Configuration
While hunting with a bow is my first passion, I don't mind hunting an old buck with a muzzleloader, rifle or shotgun. My father and son Sam will even use a crossbow this season. So the blinds that I use need to have multiple window configurations to allow for the flexibility of using the entire 3-4 month season.
Quality and Comfort
Staying in your blind for the entire day in a high pressure state is often the rule, not the exception, when it comes to using your blind over and over without spooking deer. Comfortable seats and air-tight blinds can be extremely beneficial for weathering the worst of Midwestern cold fronts.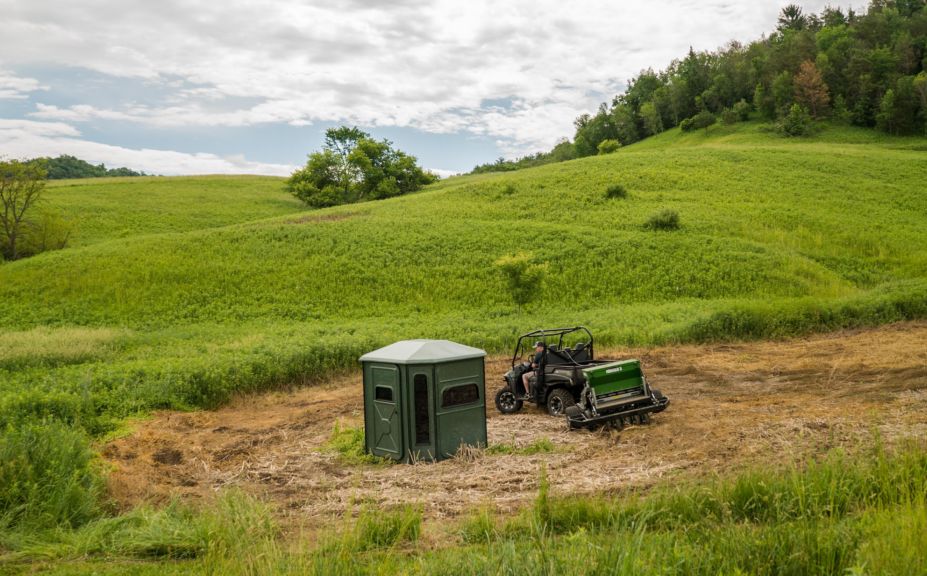 *The best blinds I have experienced so far, that meet or have exceeded my personal expectations, are from Redneck Blinds - make sure to check them out!

2. Hiding Blinds in High Pressure States
Does your blind pass the 100 yard deer blind concealment test? If your blind sticks out like a sore thumb from 100 yards or more to the human eye, deer will see it and most likely fear it. While local deer may get used to blinds over time, the best deer hunting and herd management parcels attract mature bucks during the Fall, and not the Summer months. You had better hope that when the oldest buck in the neighborhood decides to take his first cruising on your land during the daylight in late October, that your blind isn't too obtrusive for him. Breaking up the outline of your blind is more important than ever, as the popularity of blind hunting in high pressure states continues to grow. While a few percentage of hunters use adequate strategies to conceal their blinds, your high level blind strategy efforts to conceal your blind will go a long way.
For many seasons I have used and encouraged clients to play, Egyptian Wheat. While Egyptian Wheat works well on an annual basis, this year we are adding a 2nd layer of protection, for a more permanent screening solution, by planting switchgrass to further cover our access and deminish our own level of hunting pressure. We do not expect the switchgrass to sufficiently screen the blind until the end end of next summer's growing season, so we have again planted Egyptian Wheat to screen and conceal the blind in the meantime. If you're interested in learning more strategies to conceal your hunting blind, check out the Best Ways To Hide Your Deer Blind.
3. Deer Blind Access Strategy is King
This is a relatively simple concept. The quality of your blind's location is only as good as it's ability to conceal your hunting efforts. If a deer can watch you on your way to your blind, while you're in your blind, or when you exit your bind, something has to change. Try following the 10% blind access rule for success. If you can get in and out of your blind location safely while only spooking deer less than 10% of the time that you hunt the location, you are on the right track. While 0% is obviously preferred, it's incredibly difficult to avoid spooking deer 100% of the time. Spooking deer 1 out of every 10 times that I use a blind (or treestand) is the absolute maximum threshhold that I will personally accept, on any land that I hunt.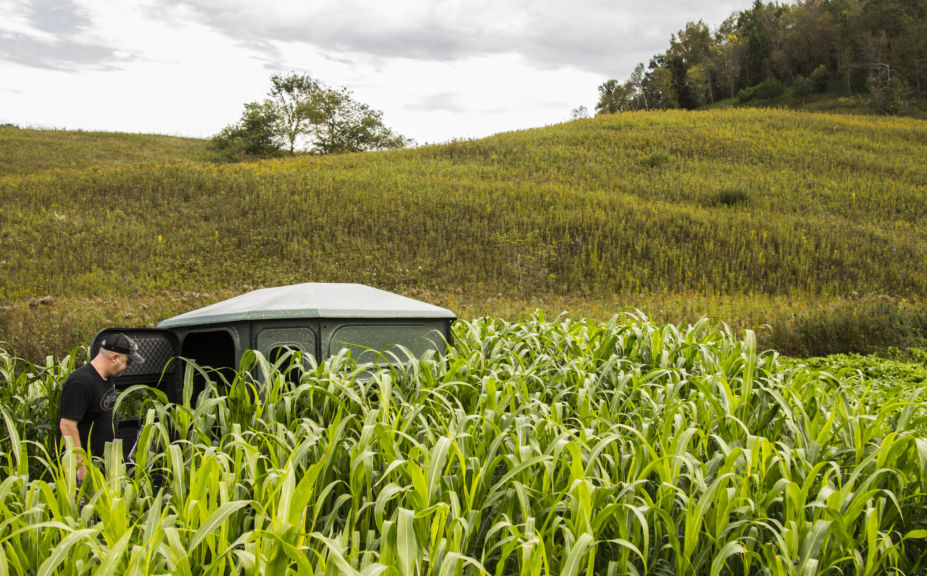 *John Komp from Northwoods Whitetails carrys exceptional screening and food plot products that I have used and trusted for years!

Conclusion
Choosing a quality, hidden blind that you can access is the foundation of a great set of deer blind strategies. However, don't forget to make sure that you can access your blind without ever allowing deer to smell you or see you coming. Another great deer blind strategy is the sniper test. Ask yourself, "If the deer had a gun, would you still try to access your blind?" If the answer is "no", then try chaning your access, your blind location or both.
I urge you not to fall into the trap of simply thinking that you can install a great blind alongside a food plot and kill a monster buck. Can you make it happen? It's possible. However, If you are like me and expect success every single season, you can afford to work your tail off for "it's possible". While hunters in low pressure states like Iowa, Kansas and Kentucky may not need to take every measure of precaution, it's still not a bad idea if you live in one of those states and have a goal of creating opportunities for the oldest and wisest bucks in the neighborhood, every single year.