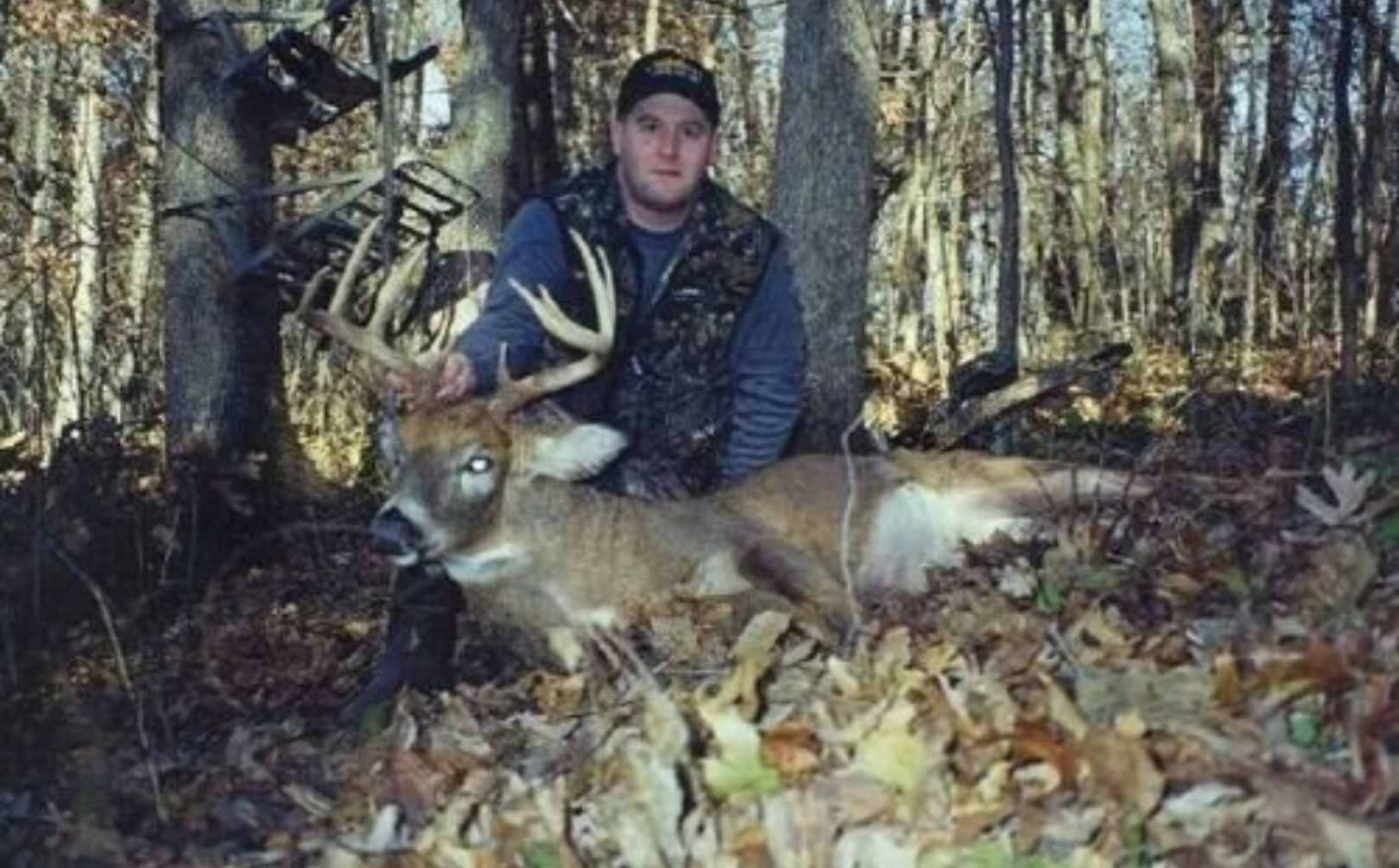 Details
Date: October 25th
Time: Within an hour of first light
Conditons: 30s, calm, clear skies and high pressure
Weapon: Mathews Ultra
Location: Near La Crosse WI
Hunting and Habitat Design Strategies That Contributed to my Success in 2002, READ HERE:
*Morning Sneak Tactics for Mature Bucks
*Spook Proof Deer Stand Rotation Guide
*Cold Front Hunting Guide
*Late October Mature Buck Tactics
2002 Wisconsin Archery Mature Buck Success Story
What an advanture! After hunting in PA, KY and MI together for several years, my hunting partner Karl and I made the move to the great state of WI. During the winter of 2001/2002 we started searching for property to hunt along the mighty Mississippi. Even back then Buffalo County was famous for it's reflection of a healthy population of buck age structure, so our goal was to be close to Buffalo county, without being located in Buffalo county. In January of 2002, we spent an entire day scouting several parcels, eventually choosing the first one we looked at. 12 years later our decision was certainly a good one, and although I have since started hunting a new lease, I can't wait to share the MANY other success stories that this parcel created throughout the years!
After hanging 6 stands in the off-season and scouting the land a few times, we were as ready to hunt as we were going to be! The only bad thing? We just didn't see a lot of bucks. What we found in 2002 wasn't much different than the years that followed: During eachseason we would typically see 2-3 shooters, and shoot 1-2 of them. This beautiful 9 point was the results of 9-10 days in the woods scattered over 6-7 weeks of hunting, and a handful of trips...and I was completely thrilled!
Although our pre-hung stand locations ended up being located in great spots, with a couple actually making it the entire 12 years we hunted the land, the mobility of a climbing stand greatly aided me in the harvest! A cold night, and a calm, cold morning helped me to make the decision to climb a tree within the inside corner of major stand of hardwoods, bedding points and benches, and a cow pasture. With my scent blowing into the pasture and deer spending more time in the adjacent corn field under the cover of darkness, my access was "deer-free" and silent.
The hunt seemed too good to be true. It all made sense on paper; including the access, the stand location, the placement of the deer before daylight and the weather! However without the aid of a lot of experience within the area or deer cams, we just didn't know what to expect. But the deer followed the script, and it didn't take too long after enjoying a frosty morning sunrise for my Pope and Young class whitetail to come cruising by after exiting the corn field above. What I didn't know at the time, was that even though I would eventually shoot 16 more bucks on the lease while using 13 different trees, both my first buck on the land with a bow, and my last buck on the land with a bow, would be killed only 20 yards apart.
Conclusion
A bleat with the can and a quick grunt from the buck sealed his intended approach, and eventual harvest. Karl and I have enjoyed many celebrations while hunting together and this was one of the very first! This buck was also no different than many opportunities before and after this harvest, where several of the same conditions have come together for many years to produce consistent success:
1. First time stand use
2. Pre-rut hunting
3. Morning sneak
4. Deer-less approach route
5. Non-invasive stand rotations
Do you have a set of "tried and true" mature buck harvest tactics? There is certainly more than one way to skin a cat, but I have enjoyed narrowing down my own hunting methods since the late 80s, and this particular hunt was truly a reflection of that. Many seasons have past since my first WI hunt however, the practice of accessing a stand during a cold, Pre-rut morning has become even further cemented into my own personal set of tactics!