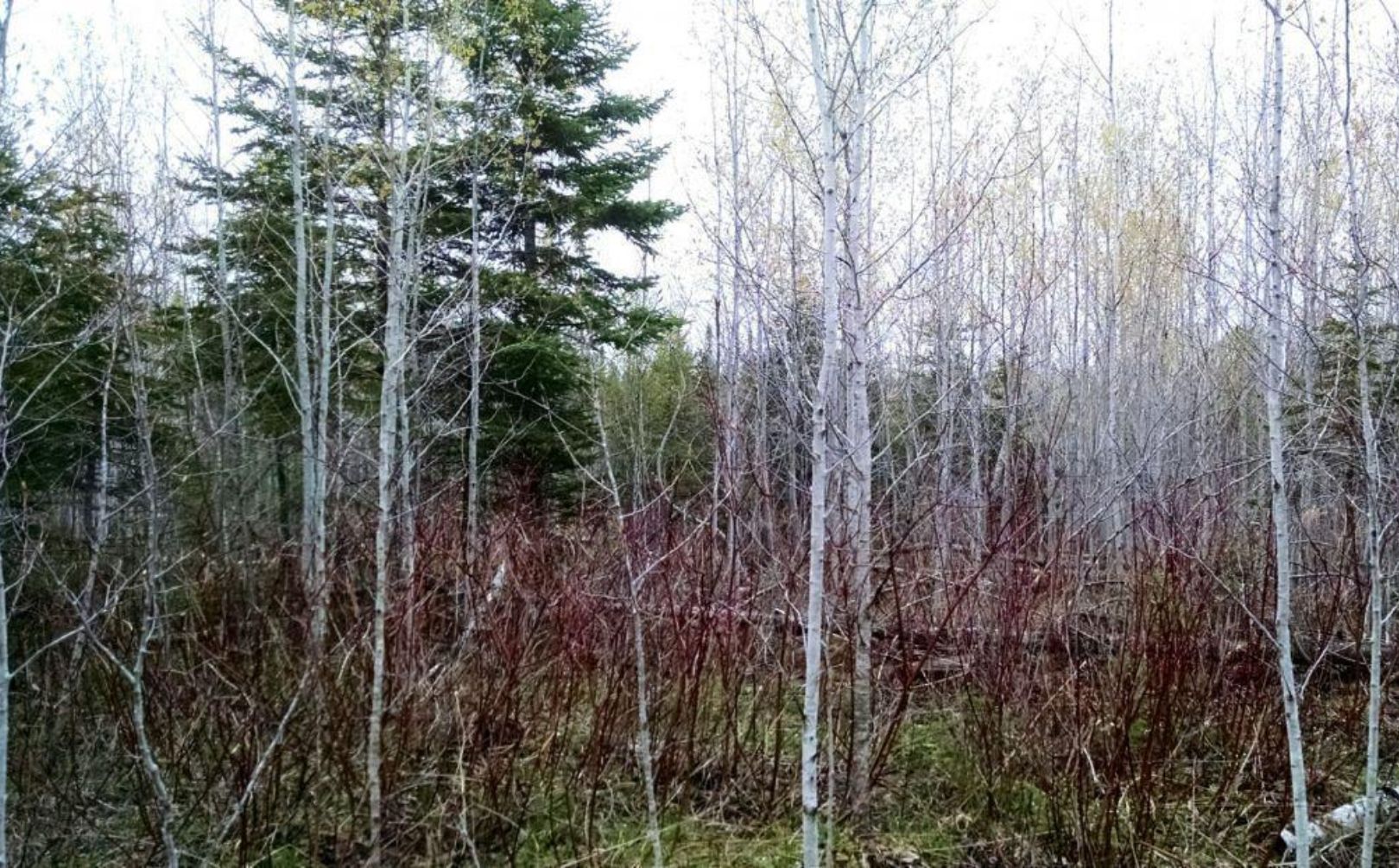 Have you ever created a natural browse plot? Staring across the Northern WI lowland, mixed with young aspen regen, red osier dogwood, white and yellow birch, red maple, tag alder and various conifers, the diversity of the habitat was incredible, but disappointing. Why? Because the land featured nearly as much standing pockets of water as natural habitat diversity, and my client was dead set in his desire to offer a high quality food plot program. While a food plot can potentially offer more tons of forage per acre within a highly defined deer habitat design, my client's disappointment began to change as I jumped at the opportunity to enthusiastically suggest an easier path, "Have you ever considered a natural browse plot?"
A natural browse plot for deer can be one of the most effective food sources on the land that you own, or it can be one of the most outstanding compliments to an effectively established food plot program. Although a natural browse plot lacks the ultimate power in tonnage of forage per acre, it can be a very high quality food source that can be easily established to create definitive deer movement patterns.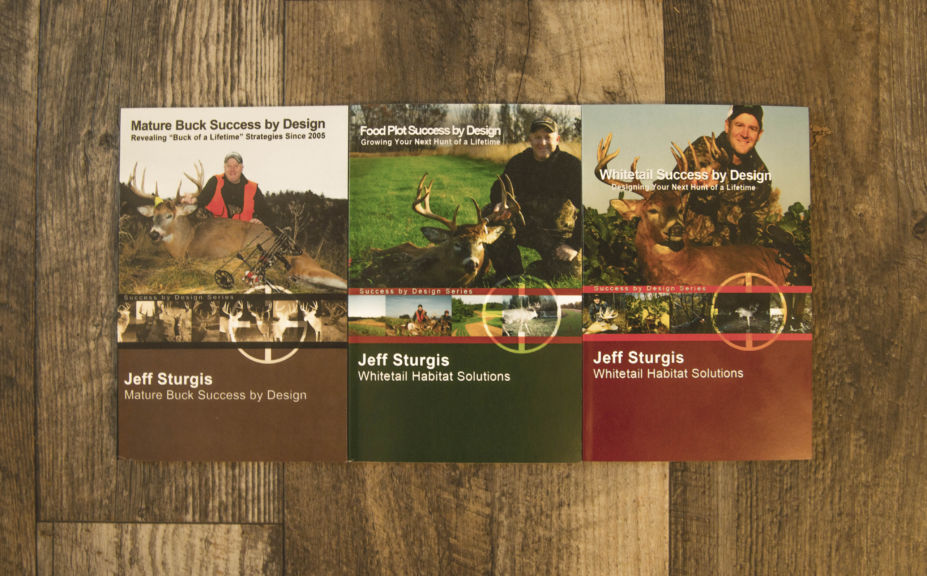 If you're interested in learning more about creating the ultimate deer hunting property, you'll love my Whitetails By Design Book Series!

Natural Browse Plot Deer Movements
The ability for your habitat improvements to attract, hold, protect and define deer usage will be determined by the difference in the level of quality of your own habitat, compared to the surrounding lands. Natural browse plots may seem like a lot more of the same, but they are not. The creation of fresh, young shoots of a variety of browse species can be a powerful tool for your habitat efforts. Can a natural browse plot offer the same amount of attraction and holding power as a food plot? Absolutely not, but a browse plot can still offer a difference in quality, which is often all that it takes to define deer movements. Here is an estimation of where I have experienced that a natural browse plot ranks on scale of 1-10:
1. Diverse, Fall based food plot forages = 10/10
2. Browse plots = 6/10
3. Non manipulated potential browse plot areas = 3/10
Although natural browse plots lack the ability to actually attract, hold and build a deer herd in most environments, they can significantly increase your land's ability to positively influence your herd and habitat efforts. When natural browse plots are combined with a solid food plot program, I believe that you could make a case that the results can be even better than with a food plot program alone. These are some examples of a few of my favorite ways to define deer movement, with a naturally created food plot:
1. Long Lines of Deer movement
Do you want to connect the only food plot space on your small parcel, to a high quality bedding area? Try a 10-40' wide browse cut that extends the entire distance, complete with an outside elbow along the way to set up your bow stands. My recent client's parcel featured multiple long lines of browse plots that served to connect food plots to bedding areas and food plots to foot plots. One area of the connection was to the Northeast, where two browse plots came together to offer a highly defined deer movement to a remote bedding area located on the adjacent public land. This combination of deer movement lines of travel, effectively creating multiple stand locations for a variety of wind directions.
Although to fully understand one of my latest habitat designs you would literally have "had to be there", the light tan color illustrate the browse plots recommended for the parcel, and the red dot and red lines illustrate the recommended stand locations and access points.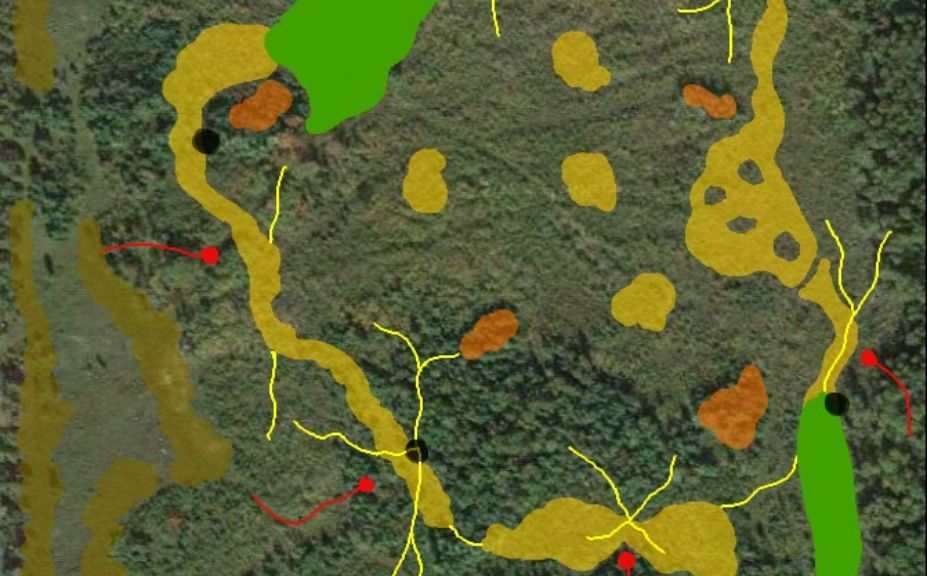 2. Interior Parcel Holding Capacity Improvement
The number could be 4 natural browse plots, and it could be potentially 6 or more, but on this 40 acre parcel the creation of several 1/8th to 1/4 acre browse plots can provide a substantial boost to the attractiveness of the interior bedding area. The deer will still focus towards the higher quality food plots for their evening dinner time for highly defined movements, but the landowner can create a much higher level of attractiveness for the daytime bedding opportunity by improving the diversity of the forage within.
3. Destination Browse
Although not quite the anchor per acre of a quality cool season food plot, a large destination plot can compete because they easy to create to giant proportions, and they could be considered to be a much lower level of stress to the local deer herd. The large natural browse plot on the East side of the 40 acre parcel will features an abundance of native regeneration, a high % of stems cover per acre, natural diversity as well as small islands to reduce the overall stress level of deer vs. deer, within the area.
4. Natural Funnel Creations
The hour glass shaped natural browse plot in the Southeast portion of the 40 acres, features an outstanding pinch point of native growth, with the hunter access and downwind areas covered by the low value habitat of a middle-aged black spruce swamp. The larger "tops" of the dark ground trees to the North of the hour glass contain mature pine, white spruce, fir, and both scattered soft maple and yellow birch, which features a much higher level of attractiveness for daytime bedding opportunity. The middle aged black spruce swamp features the perfect habitat dead zone, to compliment the hour glass natural browse creation.
To learn more about the importance of creating dead zones, check out my Deer Habitat Dead Zones article.
How To Create a Natural Browse Plot For Deer
Creating a natural browse plot may be a lot easier than you think! Do You have a high water table or lack the resources to clear the land? Than a browse plot may be for you! You first need to make sure that you are not violating the endless list of potential wetlands regulations, but once you have determined that you are OK to proceed, grab your favorite habitat cutting piece of equipment and hit the woods! Here are the steps for creating a browse plot that I recommend to my clients:
1. Use ribbon or paint to mark your browse plot, preferrably prior to when the huge variety of blood sucking insects that are common to moist lowland areas, are present. Make sure to capture the highest concentrations of quality browse species that within the intended line of deer movement, including Red Osier Dogwood (my personal favorite), sumac, young maple, birch, cherry or aspen, as well as virtually any non-conifer wood growth. Even the most undesirable of timber species for deer, can be counted on to provide a boost of attraction and forage when fresh and young.
2. Use a chainsaw and a lot of brute force to remove any wood debris, including logs, sticks tops and stumps.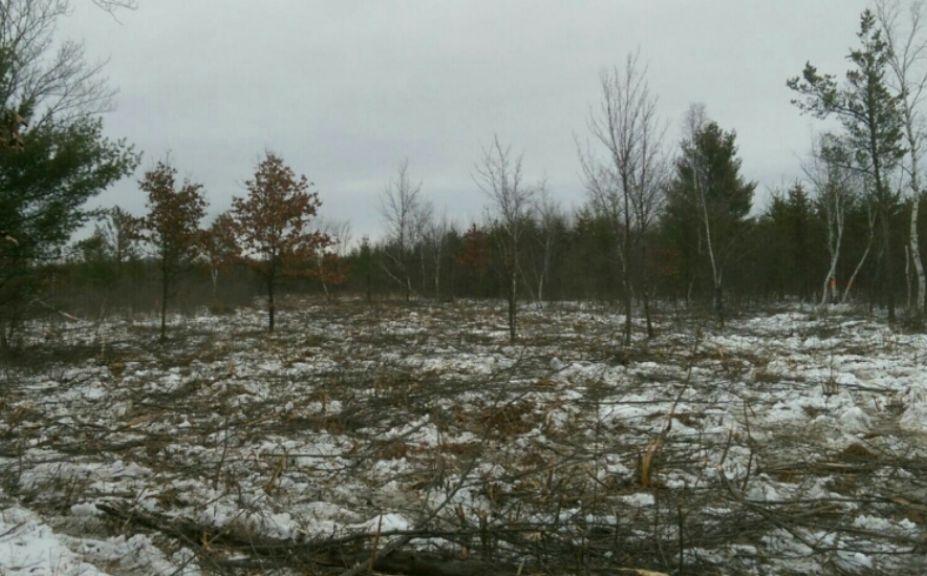 *Using a tractor mounted brush hog on frozen ground during the winter, can be a great way to create your plot!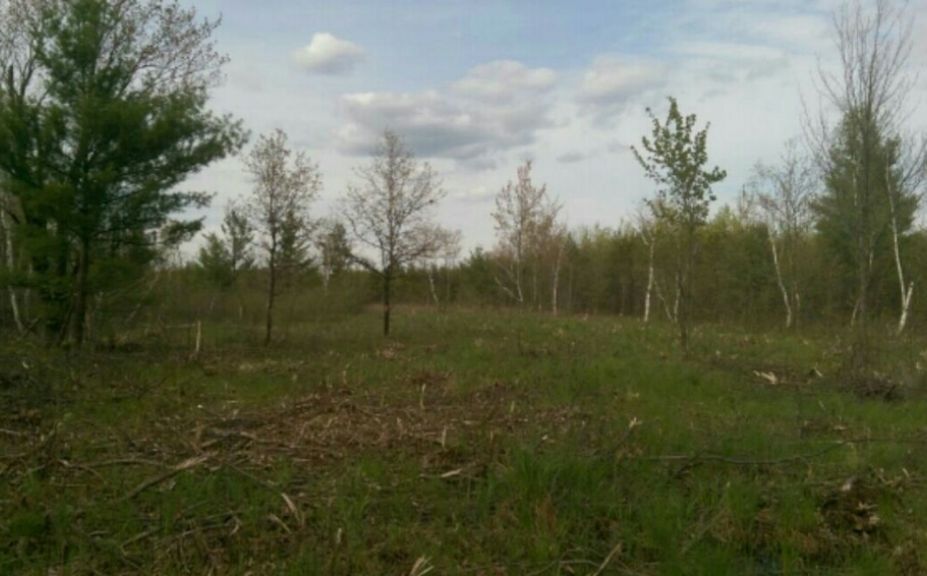 3. Pull, start or climb into your favorite brush clearing piece of equipment and create your browse plot.
That's it, it is that easy! No tilling discing, plowing or land clearing. Do you have a great diversity of potential browse species that are closer to maturity than young? As long as you can capture a lot of sunlight into your cuttings, remove the timber and allow for the regeneration to take place. Often the best locations are within various habitat diversity mixes of lowland areas that lack mature timber growth, but do not overlook a potential hotspot when mature timber is removed to create potential natural browse conditions following a timber harvest.
Maintaining Your Natural Browse Plots
Poplar, red maple, red osier dogwood and many other high quality browse species will thrive in slightly acidic soil, or those species wouldn't be growing in their current conditions in many locations already. It may be possible to increase the productivity of your fertilization efforts while raising your pH to a minimum of 6 with lime, or possibly to reduce the pH level if 8 or above, but it will pay to take a soil test.
*Feeding Your Natural Browse Plots
Scotts Fertilizer states in their description of their "Evergreen, Flowering Tree & Shrub Continuous Release Plant Food" product that you should "apply fertilizer every 2 months during the growing season". This is a nitrogen heavy, time release fertilizer and the practice of using a product such as this may have a lot of merit. The recommendation I make to my clients is that if you don't take a soil test, to apply 100#s of 19-19-19 following a mid to late June cutting when rain is in the forecast. However, this is certainly not an exact science, so I encourage your to expirment with your own habitat conditions. The complexity of habitat diversity, soil type, water table and regional influence will all play a role in the puzzle of your fertilization efforts, however it pays to feed your natural browse plots!
Whether your browse increases in volume, attractivess and nutrients by 20%, 50% or 100% there is little doubt that it will certianly increase by at least some degree. The higher the attraction, the higher the potential for you to highly defined the deer movements on the land that you hunt, and that includes by cutting your browse plots consistently.
*Cutting Your Natural Browse Plots
When the browse reaches shoulder to head high, it begins to fade quickly in potential use by the local deer herd. I would pay particular attention to the high value shrubs within your plots, including Red Osier Dogwood. When the shrubs begin to reach head high for a browsing deer or higher, it is time to cut. Don't be suprised if you find that you need to cut every 2 years as a general guide, but you may find that a mid June cutting is appropriate every single year.
*Enhancing Your Natural Browse Plot
Natural browse plots are the perfect location for you favorite variety of apple, oak or other mast producing planting, in particular within the intended lines of deer movement. My personal recommendation concerning any fruit or nut planting is to "keep food with food". By focusing your food based shrub or tree plantings withing natural browse plot openings, you may be able to actually offset the lack of tonnage when compared to a traditional food plot, through an increased level of natural diversity. The openings will also feature the perfect location to capture the necessary amount of sunlight per day for your plantings. As long as you match your mast producing tree or shrub to the soil and water table conditions you should find great success. Make sure to cage and protect your plantings as well, because they should receive a lot of attention from local wildlife populations.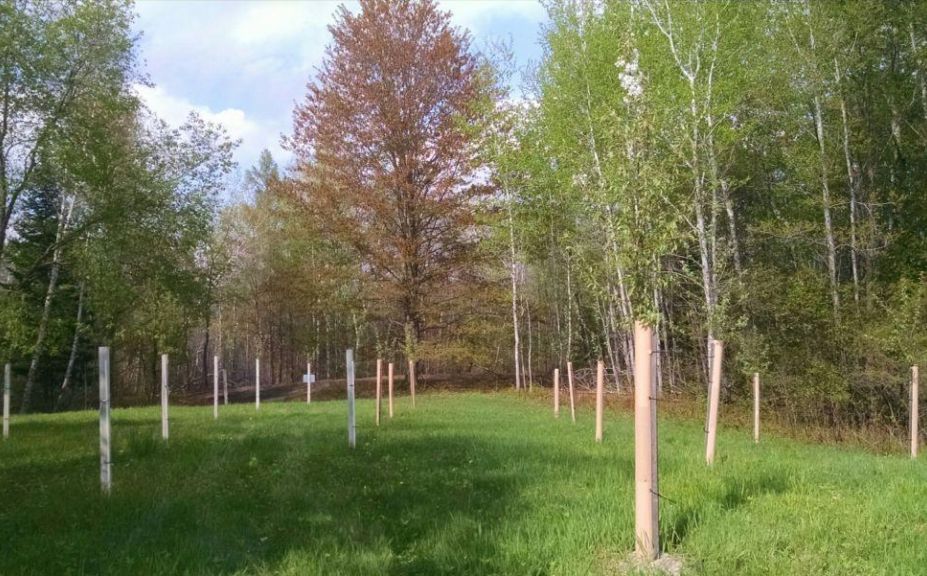 Conclusion
By the end of the day my client and I were able to design a plan that included a power packed combination of natural browse plots and traditional food plots. Although at first disappointed at the overall lack of food plot opportunity, my client was very pleased to be able to effectively offset the loss of high and dry areas, through the creating of high quality natural browse plots. The browse plots offered the perfect opportunity to pull together all of his habitat efforts, while at the same time raising the level of the attractiveness of his land significantly. It will not hurt that the ability to highly define deer movement for effective and efficient harvest opportunities, has been significantly raised as well!