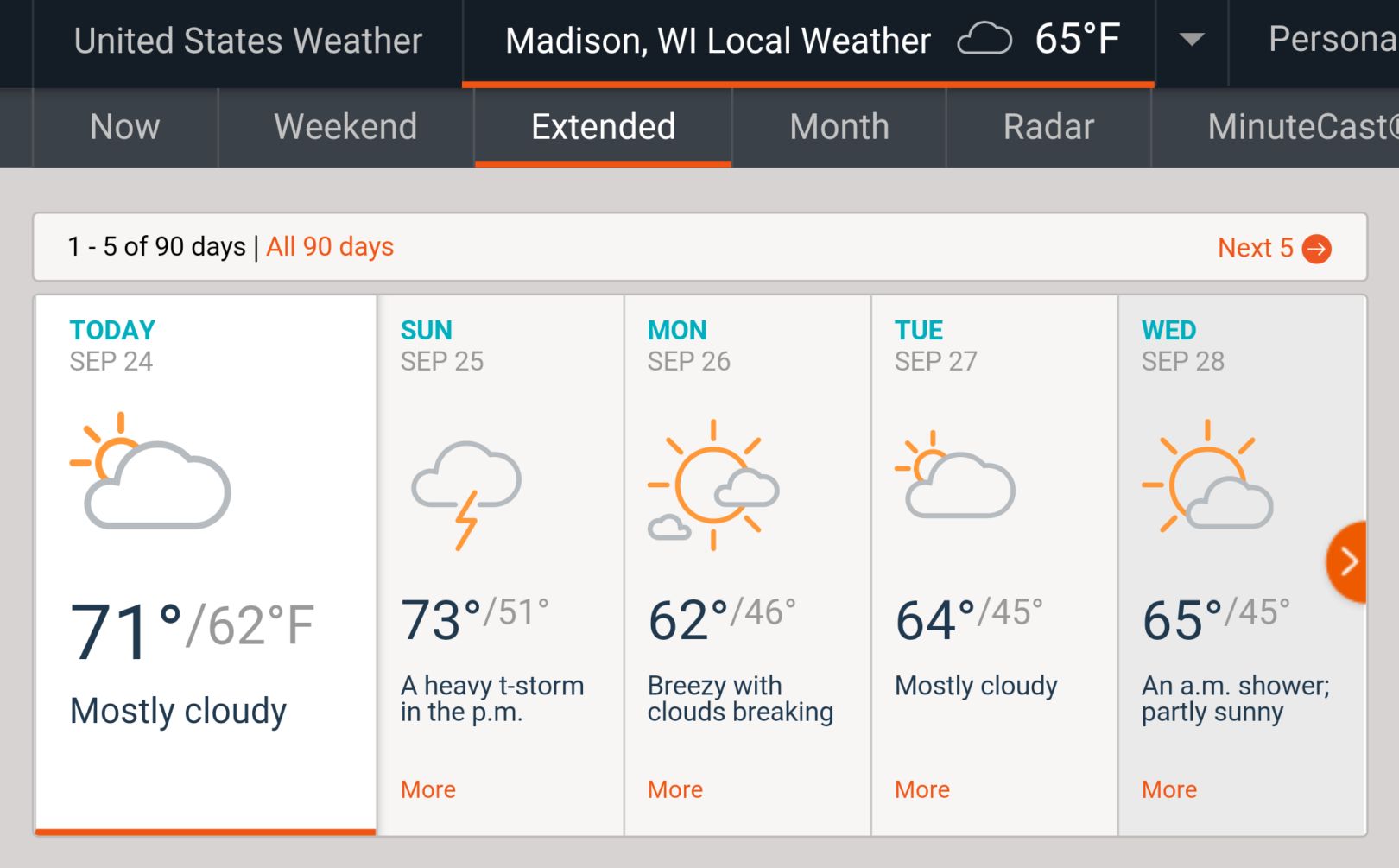 Monday the 26th and Tuesday the 27th are going to be a couple of outstanding days to spend a sit or two in your favorite early bowseason treestands! Across the upper Midwest unstable weather has recently been responsible for widespread flooding, as well as both extreme wind and rain conditions.
Weather Rules Sit Opportunities
It doesn't matter if you are bowhunting during the early season, October lull, all phases of the rut or during the late season, you can easily use the weather to dictate the best days to take a seat. Monday and Tuesday are about as good as it gets for this time of the year, so try not to miss out if you can make it happen.
Early Week Bowhunting Alert
If you have followed my writings for the last several years, you recognize that when the weather conditions are good, you are better off hunting 1-2 prime weather days than a week or poor weather opportunities. Early this week is no exception! While the remainder of the week appears boring and low value, there are a few key factors that really stick out for early this week. You will need to check the forecast for you area to find when the cold front is taking place near you, but in Southern WI you can bet I personally will not miss Monday evening and potentially both Tuesday morning and Tuesday evening, to climb into a tree. There are several key factors why:
1. Unstable Weather
If the recent weather patterns weren't enough, another round of unstable weather will hit Sunday evening. Deer feed 5 times in a 24 hour period and when high stress weather patterns are present deer lose energy at a very high rate. Cold, missed feedings and the overall stress of the turbulent weather consume energy reserves that deer aggressively seek to replace as soon as the weather breaks. The more unstable the weather patterns, the more you can take advantage of a deer's stomach when the conditions improve.
2. Major Temperature Drops
Check out the overall drop in the forecasted highs from Sunday to Monday! An 11 degree temperature drop is a significant drop, in particular when it follows unstable weather patterns. From Sunday morning (62 degrees) to Tuesday morning (46 degrees), the 16 degree temperature drop is outstanding. You can expect deer to be highly social, mobile and active during Monday night. Both the morning lows and daytime high temperature drops offer some great early bowseason sit opportunities for this time of the year.
3. Clean Stable Weather
Folks, we haven't had a lot of clean air over the past week and with a rising barometric pressure into Tuesday you can be the deer activity will greatly pic up! This is a time when new bucks are appearing on the trail cams and really beginning their shift from Summer to Fall patterns. Bucks typically shift a mile or more to their Fall ranges and cool nights can be a major trigger to help them relocate.
When and Where to Hunt The Weather
With the weather similar to the chart above in my own area of SW WI, I will be hunting highly defined food source movements on Monday evening. For a mature buck I wouldn't suggest hunting directly over the food, but instead at least 100 yards further into the cover towards the bedding area you expect him to exit prior to dark. For a cool, Tuesday morning sit I suggest finding a stand location at least 200-300 yards away from a major food source that is adjacent to a mature buck bedding area.
Try Not To Miss This Bowseason Weather Alert
Quality cold front weather opportunities only strike every 7-10 days from now through January. During the 3 to 4 months of each State's bowseason there are typically less than 20 can't miss periods to be in the woods, and Monday and Tuesday of this week is one of those times!